| | |
| --- | --- |
| Deep Impact (1998) | Last Updated: Nov 2009 |
| | | |
| --- | --- | --- |
| | | A comet is on a course to collide with Earth, and people must cope with the fact that they will die. The President has devised a plan to keep as many humans alive as possible. Scientists have built giant caves big enough to hold a million people, and the government is going to have a lottery to pick 800,000 people to live in the caves along with 200,000 scientists, artists and doctors. |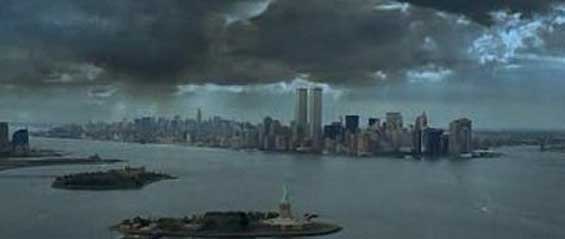 otsoNY Comments: The direction of the wave varies in several shots during the New York destruction sequence. For example, when the wave hits the Statue of Liberty it is observed coming from behind it, which in reality would have been coming from the Jersey City side. The problem is that the wave would be coming from a north-westerly direction as it is shown. The wave was really supposed to be coming from the southeast. So the wave should have hit the front of the statue instead of the back. The same is for when the wave reaches Washington Square Park. The arch is actually on the uptown side of the park, while the wave should be coming from downtown. In the overhead shot of the Chrysler Building the wave is shown impacting it directly from the east whereas it should have been coming from a more southerly direction.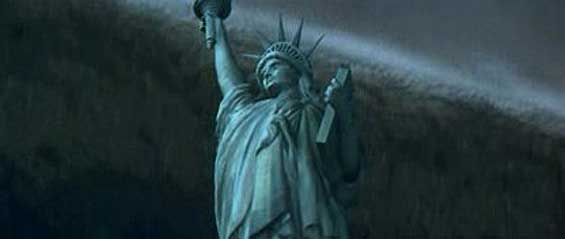 | | |
| --- | --- |
| | Statue of Liberty, Liberty Island, New York Harbor. |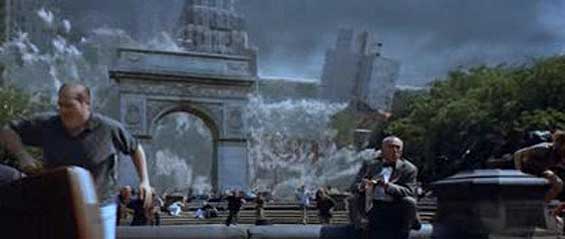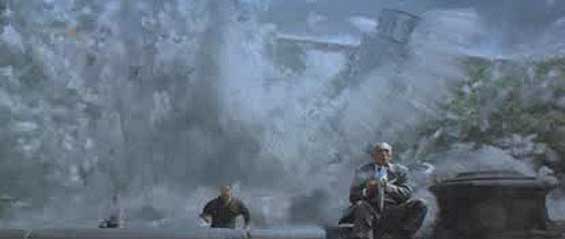 | | |
| --- | --- |
| | Washington Square Park, Greenwich Village, Manhattan. |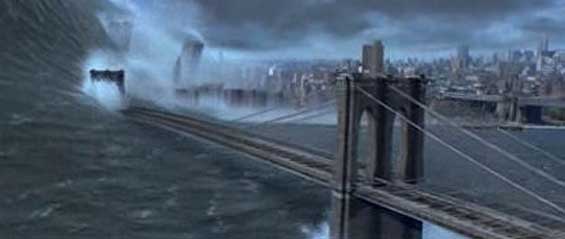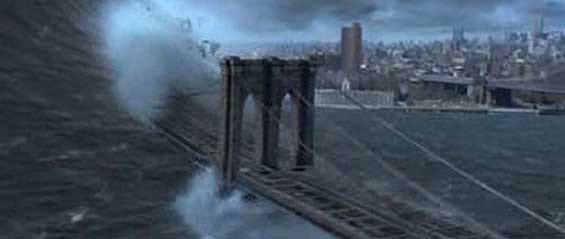 | | |
| --- | --- |
| | Brooklyn Bridge, Lower East Side, Manhattan. |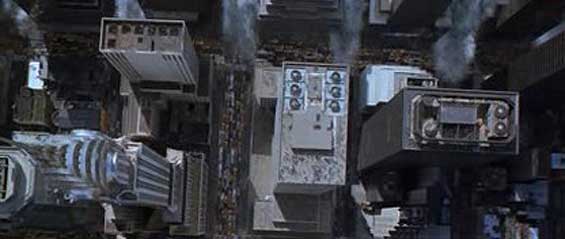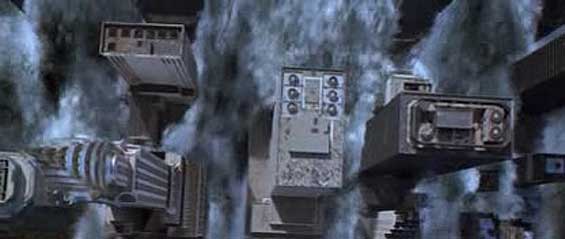 | | |
| --- | --- |
| | Chrysler Building, 405 Lexington Avenue and East 42nd Street, Manhattan. |
Chrysler Building

The Chrysler Building is an Art Deco skyscraper in New York City, located on the east side of Manhattan in the Turtle Bay area at the intersection of 42nd Street and Lexington Avenue. Standing at 319 metres (1,047 ft), it was the world's tallest building for 11 months before it was surpassed by the Empire State Building in 1931. After the destruction of the World Trade Center, it was again the second-tallest building in New York City until December 2007, when the spire was raised on the 365.8-metre (1,200 ft) Bank of America Tower, pushing the Chrysler Building into third position. In addition, The New York Times Building which opened in 2007, is exactly level with the Chrysler Building in height.

The Chrysler Building is a classic example of Art Deco architecture and considered by many contemporary architects to be one of the finest buildings in New York City. In 2007, it was ranked ninth on the List of America's Favorite Architecture by the American Institute of Architects.
Quick Links
Chart Listings
Disclaimer
All images that appear on the site are copyrighted to their respective owners and otsoNY.com claims no credit for them unless otherwise noted. If you own the rights to any of the images and do not wish them to appear on the site please contact us, and they will be promptly removed.