Greatest 100 NYC Films of the 1980s
This list was compiled in June 2014 on the basis that the films were popular in the era of release as well as successful at the Box Office and have lasted the test of time.
100. Two of a Kind (1983)
99. The Demon Lover (1987)
98. Staying Alive (1983)
97. So Fine (1981)
96. Escape from New York (1981)
95. Author Author! (1982)
94. Who's That Girl (1987)
93. Vampire's Kiss (1988)
92. Unfaithfully Yours (1984)
91. The January Man (1989)
90. The Dogs of War (1980)
89. Sid and Nancy (1986)
88. Seize the Day (1986)
87. Romantic Comedy (1983)
86. Rich and Famous (1981)
85. Prizzi's Honor (1985)
84. Prince of the City (1981)
83. One-Trick Pony (1980)
82. Night Shift (1982)
81. My Favourite Year (1982)
80. Jumpin' Jack Flash (1986)
79. Highlander (1986)
78. Hero at Large (1980)
77. Hello Again (1987)
76. Heartburn (1986)
75. Hangmen (1987)
74. Falling in Love (1984)
73. F/X (1986)
72. Eyewitness (1981)
71. Endless Love (1981)
70. Dressed to Kill (1980)
69. Death Wish 3 (1985)
68. Death Valley (1982)
67. Bright Lights, Big City (1988)
66. Black Rain (1989)
65. Baby Boom (1987)
64. A Chorus Line (1985)
63. Superman 2 (1980)
62. Wolfen (1981)
61. True Believer (1989)
60. They All Laughed (1981)
59. The Pick-up Artist (1987)
58. The Lonely Guy (1984)
57. The House of Carroll Street (1988)
56. The Dream Team (1989)
55. Reds (1981)
54. Something Wild (1986)
53. Someone to Watch Over Me (1987)
52. Sea of Love (1989)
51. Scrooged (1988)
50. Cotton Club (1984)

The Cotton Club was a famous night club in Harlem. The story follows the people that visited the club, those that ran it, and is peppered with the Jazz music that made it so famous.

Director: Francis Ford Coppola
Stars: Richard Gere, Gregory Hines and Diane Lane
Link: Film Locations
49. Big Business (1988)

In the 1940s in the small town of Jupiter Hollow, two sets of identical twins are born in the same hospital on the same night. One set to a poor local family and the other to a rich family just passing through. The dizzy nurse on duty accidentally mixes the twins unbeknown to the parents.

Director: Jim Abrahams
Stars: Bette Midler, Lily Tomlin and Fred Ward
Link: Film Locations
48. Radio Days (1987)

A nostalgic look at radio's golden age focusing on one ordinary family and the various performers in the medium.

Director: Woody Allen
Stars: Mia Farrow, Dianne Wiest, Mike Starr
Link: Film Locations
47. Midnight Run (1988)

An accountant is chased by bounty hunters, the FBI, and the Mafia after jumping bail.

Director: Martin Brest
Stars: Robert De Niro, Charles Grodin and Yaphet Kotto
Link: Film Locations
46. Legal Eagles (1986)

District Attorney Tom Logan is set for higher office, at least until he becomes involved with defence lawyer Laura Kelly and her unpredictable client Chelsea Deardon. It seems the least of Chelsea's crimes is the theft of a very valuable painting, but as the women persuade Logan to investigate further and to cut some official corners, a much more sinister scenario starts to emerge.

Director: Ivan Reitman
Stars: Robert Redford, Debra Winger and Daryl Hannah
Link: Film Locations
45. Ghostbusters 2 (1989)

The discovery of a massive river of ectoplasm and a resurgence of spectral activity allows the staff of Ghostbusters to revive the business.

Director: Ivan Reitman
Stars: Bill Murray, Dan Aykroyd and Sigourney Weaver
Link: Film Locations
44. Fame (1980)

A chronicle of the lives of several teenagers who attend a New York high school for students gifted in the performing arts.

Director: Alan Parker
Stars: Eddie Barth, Irene Cara and Lee Curreri
Link: Film Locations
43. Cruising (1980)

A police detective goes undercover in the underground S&M gay subculture of New York City to catch a serial killer who is preying on gay men.

Director: William Friedkin
Stars: Al Pacino, Paul Sorvino and Karen Allen
Link: Film Locations
42. Broadway Danny Rose (1984)

In his attempts to reconcile a lounge singer with his mistress, a hapless talent agent is mistaken as her lover by a jealous gangster.

Director: Woody Allen
Stars: Woody Allen, Mia Farrow and Nick Apollo Forte
Link: Film Locations
41. Tootsie (1982)

An unemployed actor with a reputation for being difficult disguises himself as a woman to get a role in a soap opera.

Director: Sydney Pollack
Stars: Dustin Hoffman, Jessica Lange and Teri Garr
Link: Film Locations
40. The Secret of my Success (1987)

A talented young man can't get an executive position without rising through the ranks, so he comes up with a shortcut, which also benefits his love life.

Director: Herbert Ross
Stars: Michael J. Fox, Helen Slater and Richard Jordan
Link: Film Locations
39. The Pope of Greenwich Village (1984)

Charlie and his troublesome cousin Paulie decide to steal $150000 in order to back a "sure thing" race horse that Paulie has inside information on. The aftermath of the robbery gets them into serious trouble with the local Mafia boss and the corrupt New York City police department.

Director: Stuart Rosenberg
Stars: Eric Roberts, Mickey Rourke and Daryl Hannah
Link: Film Locations
38. See No Evil, Hear No Evil (1989)

Dave is deaf, and Wally is blind. They witness a murder, but it was Dave who was looking at her, and Wally who was listening.

Director: Arthur Hiller
Stars: Richard Pryor, Gene Wilder and Joan Severance
Link: Film Locations
37. Once Upon a Time in America (1984)

A former Prohibition-era Jewish gangster returns to the Lower East Side of Manhattan over thirty years later, where he once again must confront the ghosts and regrets of his old life.

Director: Sergio Leone
Stars: Robert De Niro, James Woods and Elizabeth McGovern
Link: Film Locations
36. Crocodile Dundee 2 (1988)

Australian outback expert protects his New York love from gangsters who've followed her down under.

Director: John Cornell
Stars: Paul Hogan, Linda Kozlowski and John Meillon
Link: Film Locations
35. Crimes and Misdemeanors (1989)

An opthamologist's mistress threatens to reveal their affair to his wife, while a married documentary filmmaker is infatuated by another woman.

Director: Woody Allen
Stars: Martin Landau, Woody Allen and Bill Bernstein
Link: Film Locations
34. Beaches (1988)

A privileged rich debutante and a cynical struggling entertainer share a turbulent, but strong childhood friendship over the years.

Director: Garry Marshall
Stars: Bette Midler, Barbara Hershey and John Heard
Link: Film Locations
33. Another Woman (1988)

Facing a mid-life crisis, a woman rents an apartment next to a psychiatrist's office to write a new book, only to become drawn to the plight of a pregnant woman seeking that doctor's help.

Director:Woody Allen
Stars: Gena Rowlands, Mia Farrow and Ian Holm
Link: Film Locations
32. Annie (1982)

Broadway musical based on the Little Orphan Annie comic strip. A young orphan girls adventures in finding a family that will take her.

Director: John Huston
Stars: Aileen Quinn, Albert Finney and Carol Burnett
Link: Film Locations
31. Angel Heart (1987)

Harry Angel has a new case, to find a man called Johnny Favourite. Except things aren't quite that simple, and Johnny doesn't want to be found.

Director: Alan Parker
Stars: Mickey Rourke, Robert De Niro and Lisa Bonet
Link: Film Locations
30. 84 Charing Cross Road (1987)

True story of a transatlantic business correspondence about used books that developed into a close friendship.

Director: David Hugh Jones
Stars: Anne Bancroft, Anthony Hopkins and Judi Dench
Link: Film Locations
29. Arthur (1981)

Arthur is a happy drunk with no pretensions at any ambition. He is also the heir to a vast fortune which he is told will only be his if he marries Susan.

Director: Steve Gordon
Stars: Dudley Moore, Liza Minnelli and John Gielgud
Link: Film Locations
28. After Hours (1985)

An ordinary word processor has the worst night of his life after he agrees to visit a girl in Soho whom he met that evening at a coffee shop.

Director: Martin Scorsese
Stars: Griffin Dunne, Rosanna Arquette and Verna Bloom
Link: Film Locations
27. The Last Dragon (1985)

A young man searches for the "master" to obtain the final level of martial arts mastery known as the glow. Along the way, he must fight an evil martial arts expert and rescue a beautiful singer from an obsessed music promoter.

Director: Michael Schultz
Stars: Taimak, Vanity and Christopher Murney
Link: Film Locations
26. Trading Places (1983)

A snobbish investor and a wily street con artist find their positions reversed as part of a bet by two callous millionaires.

Director: John Landis
Stars: Eddie Murphy, Dan Aykroyd and Ralph Bellamy
Link: Film Locations
25. Romancing the Stone (1984)

A romance writer sets off to Colombia to ransom her kidnapped sister, and soon finds herself in the middle of a dangerous adventure.

Director: Robert Zemeckis
Stars: Michael Douglas, Kathleen Turner and Danny DeVito
Link: Film Locations
24. Weekend at Bernie's (1989)

A pair of losers try to pretend that their murdered employer is really alive, but the murderer is out to "finish him off."

Director: Ted Kotcheff
Stars: Andrew McCarthy, Jonathan Silverman and Catherine Mary Stewart
Link: Film Locations
23. Planes, Trains and Automobiles (1987)

A man must struggle to travel home for Thanksgiving, with an obnoxious slob of a shower ring salesman his only companion.

Director: John Hughes
Stars: Steve Martin, John Candy and Laila Robins
Link: Film Locations
22. Moonstruck (1987)

Loretta Castorini, a book keeper from Brooklyn, New York, finds herself in a difficult situation when she falls for the brother of the man she agreed to marry.

Director: Norman Jewison
Stars: Cher, Nicolas Cage and Olympia Dukakis
Link: Film Locations
21. Hannah and Her Sisters (1986)

btw two Thanksgivings, Hannah's husband falls in love with her sister Lee, while her hypochondriac ex-husband rekindles his relationship with her sister Holly.

Director: Woody Allen
Stars: Mia Farrow, Dianne Wiest and Michael Caine
Link: Film Locations
20. Married to the Mob (1988)

An undercover FBI agent falls in love with a recently widowed mafia wife seeking to start her life over after her husband's murder and who is also pursued by a libidinous mafia kingpin seeking to claim her for himself.

Director: Jonathan Demme
Stars: Michelle Pfeiffer, Alec Baldwin and Paul Lazar
Link: Film Locations
19. Desperately Seeking Susan (1985)

A bored suburban housewife, seeking adventure to her life, accidentally gets hit on the head, wakes up with amnesia, and is mistaken for a free-spirited New York City drifter named Susan.

Director: Susan Seidelman
Stars: Rosanna Arquette, Madonna and Aidan Quinn
Link: Film Locations
18. Three Men and a Baby (1987)

Three bachelors find themselves forced to take care of a baby left by one of the guys' girlfriends.

Director: Leonard Nimoy
Stars: Tom Selleck, Steve Guttenberg and Ted Danson
Link: Film Locations
17. Working Girl (1988)

When a secretary's idea is stolen by her boss, she seizes an opportunity to steal it back by pretending she has her boss's job.

Director: Mike Nichols
Stars: Melanie Griffith, Harrison Ford and Sigourney Weaver
Link: Film Locations
16. Brewster's Millions (1985)

A minor league baseball player has to waste $30m in 30 days in order to inherit $300m; however he's not allowed to tell anyone about the $300m deal.

Director: Walter Hill
Stars: Richard Pryor, John Candy and Lonette McKee
Link: Film Locations
15. * batteries not included (1987)

Apartment block tenants seek the aid of alien mechanical life-forms to save their building from demolition.

Director: Matthew Robbins
Stars: Hume Cronyn, Jessica Tandy and Frank McRae
Link: Film Locations
14. Splash (1984)

A man is reunited with a mermaid who saves him from drowning as a boy and falls in love not knowing who/what she is.

Director: Ron Howard
Stars: Tom Hanks, Daryl Hannah and Eugene Levy
Link: Film Locations
13. The Money Pit (1986)

A young couple struggles to repair a hopelessly dilapidated house.

Director: Richard Benjamin
Stars: Tom Hanks, Shelley Long and Alexander Godunov
Link: Film Locations
12. Cocktail (1988)

A talented New York bartender takes a job at a bar in Jamaica and falls in love.

Director: Roger Donaldson
Stars: Tom Cruise, Bryan Brown and Elisabeth Shue
Link: Film Locations
11. Coming to America (1988)

An African prince goes to Queens, New York City to find a wife whom he can respect for her intelligence and will.

Director: John Landis
Stars: Eddie Murphy, Arsenio Hall and James Earl Jones
Link: Film Locations
10. Nine 1/2 Weeks (1986)

An erotic story about a woman, the assistant of an art gallery, who gets involved in an impersonal affair with a man.

Director: Adrian Lyne
Stars: Mickey Rourke, Kim Basinger and Margaret Whitton
Link: Film Locations
9. Big (1988)

When a boy wishes to be big at a magic wish machine, he wakes up the next morning and finds himself in an adult body literally overnight.

Director: Penny Marshall
Stars: Tom Hanks, Elizabeth Perkins and Robert Loggia
Link: Film Locations
8. When Harry Met Sally (1989)

Harry and Sally have known each other for years, and are very good friends, but they fear sex would ruin the friendship.

Director: Rob Reiner
Stars: Billy Crystal, Meg Ryan and Carrie Fisher
Link: Film Locations
7. Raging Bull (1980)

An emotionally self-destructive boxer's journey through life, as the violence and temper that leads him to the top in the ring, destroys his life outside it.

Director: Martin Scorsese
Stars: Robert De Niro, Cathy Moriarty and Joe Pesci
Link: Film Locations
6. Crocodile Dundee (1986)

An American reporter goes to the Australian outback to meet an eccentric crocodile poacher and invites him to New York City.

Director: Peter Faiman
Stars: Paul Hogan, Linda Kozlowski and John Meillon
Link: Film Locations
5. Do the Right Thing (1989)

On the hottest day of the year on a street in the Bedford-Stuyvesant section of Brooklyn, everyone's hate and bigotry smolders and builds until it explodes into violence.

Director: Spike Lee
Stars: Danny Aiello, Ossie Davis and Ruby Dee
Link: Film Locations
4. Scarface (1983)

In 1980 Miami, a determined Cuban immigrant takes over a drug cartel while succumbing to greed.

Director: Brian De Palma
Stars: Al Pacino, Michelle Pfeiffer and Steven Bauer
Link: Film Locations
3. Wall Street (1987)

A young and impatient stockbroker is willing to do anything to get to the top, including trading on illegal inside information taken through a ruthless and greedy corporate raider who takes the youth under his wing.

Director: Oliver Stone
Stars: Charlie Sheen, Michael Douglas and Tamara Tunie
Link: Film Locations
2. Fatal Attraction (1987)

A married man's one night stand comes back to haunt him when that lover begins to stalk him and his family.

Director: Adrian Lyne
Stars: Michael Douglas, Glenn Close and Anne Archer
Link: Film Locations
1. Ghostbusters (1984)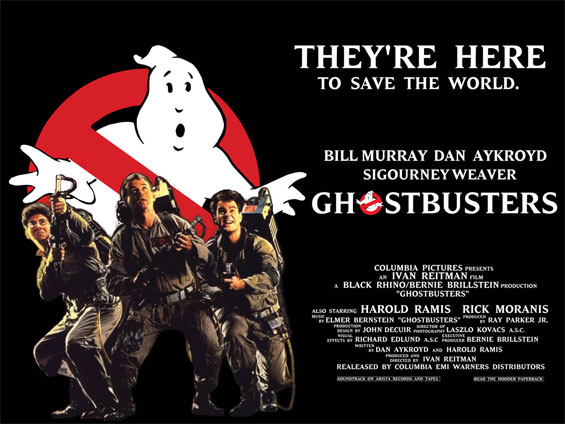 Three unemployed parapsychology professors set up shop as a unique ghost removal service.

Director: Ivan Reitman
Stars: Bill Murray, Dan Aykroyd and Sigourney Weaver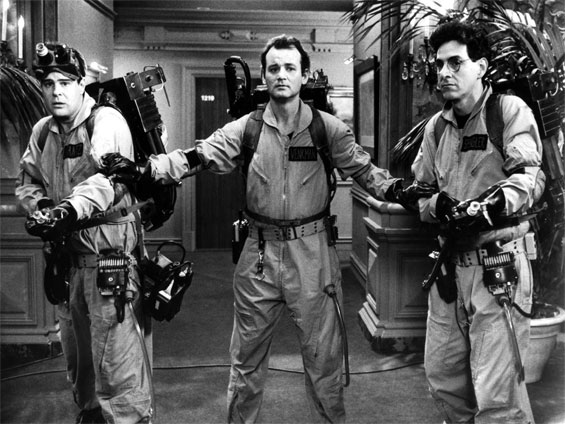 Ghostbusters is a 1984 American supernatural comedy film directed and produced by Ivan Reitman and written by Dan Aykroyd and Harold Ramis. It stars Bill Murray, Aykroyd, and Ramis as three eccentric parapsychologists in New York City who start a ghost-catching business. Sigourney Weaver and Rick Moranis co-star as a potential client and her neighbor. The Ghostbusters business booms after initial skepticism, but when an uptown high-rise apartment building becomes the focal point of spirit activity linked to the ancient god Gozer, it threatens to overwhelm the team and the entire world.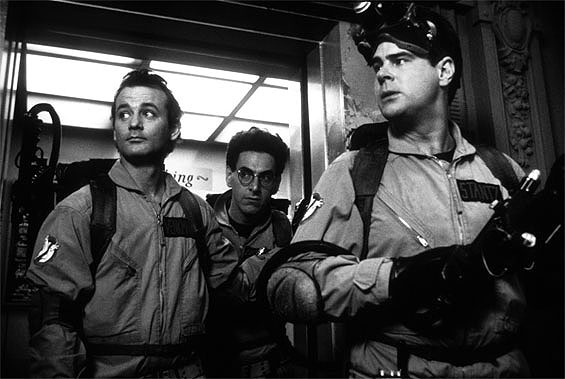 Originally intended by Aykroyd as a project for himself and fellow Saturday Night Live alumnus John Belushi, the film had a very different story during initial drafts. Aykroyd's vision of "Ghostmashers" traveling through time, space and other dimensions to fight large ghosts was deemed financially impractical by Reitman. Based on the director's suggestions, Aykroyd and Ramis finalized the screenplay in May–June 1982. They had written roles specifically for Belushi, John Candy and Eddie Murphy, but were forced to change the script after Belushi died and the latter two actors would not commit to the film.
Ghostbusters was released in the United States on June 8, 1984, and celebrates its 30th anniversary. It was a critical and commercial success, receiving a positive response from critics and audiences and grossing US$238 million in the United States and more than $291 million worldwide. It was nominated for two Oscars at the 57th Academy Awards for Best Visual Effects and Best Original Song (for the eponymous theme song), but lost to Indiana Jones and the Temple of Doom and The Woman in Red respectively.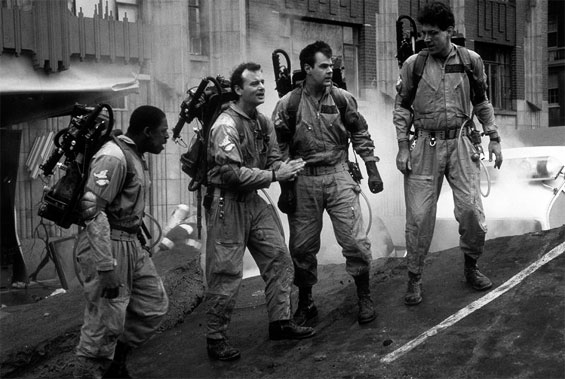 After the success of the first film and the animated series The Real Ghostbusters, Columbia Pictures pressured the producers to make a sequel. However, Aykroyd, Ramis and Reitman were uncomfortable with this, as the original film was intended to be conclusive and they wished to work on other projects. Eventually, they agreed and created a script. The second movie, Ghostbusters II, was released in 1989.
Although there has been talk of a 3rd film for many years now, with the recent passing of Harold Ramis, and Bill Murray's reluctances to sign up to the project unless the script was perfect, a provisional release date of 2015 looks doubtful. Something's should just be left in the 1980s.
Link:
Film Locations
Send us your comments:
editor@onthesetofnewyork.com
Quick Links
Chart Listings
Disclaimer
All images that appear on the site are copyrighted to their respective owners and otsoNY.com claims no credit for them unless otherwise noted. If you own the rights to any of the images and do not wish them to appear on the site please contact us, and they will be promptly removed.