For anyone planning a trip to New York City this year, otsoNY has compiled a list of the most essential film locations worth having a 'selfie' in front of.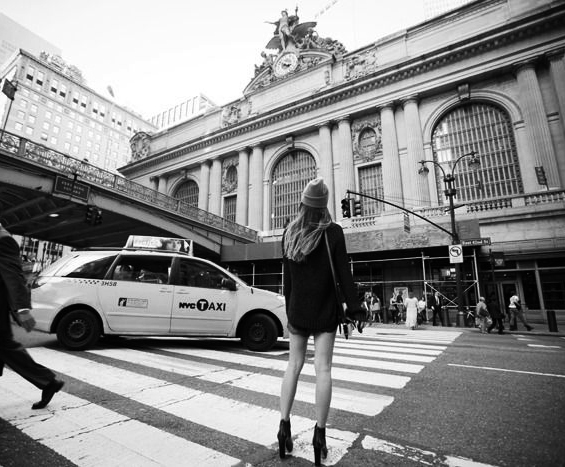 10. Serendipity
Serendipity is one of the most romantic films to have even been filmed in New York City. Set during the Christmas season and starring John Cusack as Jonathan Trager and Kate Beckinsale as Sara Thomas, the two strangers chance meeting happens as they both try to buy the same pair of black cashmere gloves at Bloomingdale's. They feel a mutual attraction, and despite the fact that each is involved in other relationships, they end up eating ice cream together at Serendipity 3. Having said their goodbyes and gone separate ways, they both suddenly realise that they have left something at the ice cream bar and return there, only to find each other again.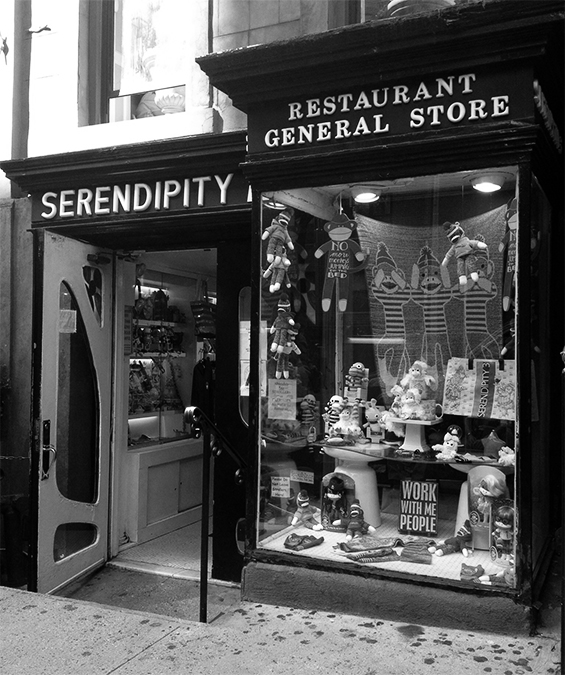 Serendipity 3, often written Serendipity III, is a restaurant located at 225 East 60th Street, between Second and Third avenues, founded by Stephen Bruce in 1954. Beside it's appearance in the 2001 romantic comedy, the restaurant has also appeared in One Fine Day and Trust the Man.
otsoNY Tip: For anyone wanting to try out the slightly bizarre deserts on offer at Serendipity III, they are open 7 days a week from 11:30am to midnight, but if you only want a photograph outside, it is far better to get there before opening time as there is often a queue of people waiting outside interrupting your view of this quaint and picturesque place.
9. When Harry Met Sally
When anyone mentions the film, When Harry Met Sally, there is only one scene that pops into your mind… the Deli scene.
Starring Billy Crystal as Harry Burns and Meg Ryan as Sally Albright, the couple first meet in 1977 having graduated from the University of Chicago and share the drive to New York City, where Sally is beginning Journalism school and Harry is starting a career. During the drive, they discuss their differing ideas about relationships between men and women. Harry says that "Men and women can't be friends because the sex part always gets in the way". Sally disagrees, claiming that men and women can be strictly friends without sex. During a stop in a diner, Sally is angered when Harry tells her she is attractive; she accuses him of making a pass at her. In New York, because of their divergent philosophies, they part on unfriendly terms. Five years later, they meet in a New York airport and find themselves on the same plane. Both are in relationships, and Harry suggests they become friends, forcing him to elaborate on his previous rule about the impossibility of male-female friendships. Despite Harry's suggestions of exceptions to that rule, they eventually separate, concluding that they will not be friends.
Harry and Sally run into each other again five years later, in a New York bookstore. They have coffee and talk about their previous relationships, both of which have ended. After leaving the café, they take a walk and decide to be friends. In subsequent scenes, they have late-night phone conversations, go to dinner, and spend a lot of time together. Their dating experiences with others continue to highlight their different approaches to relationships and sex.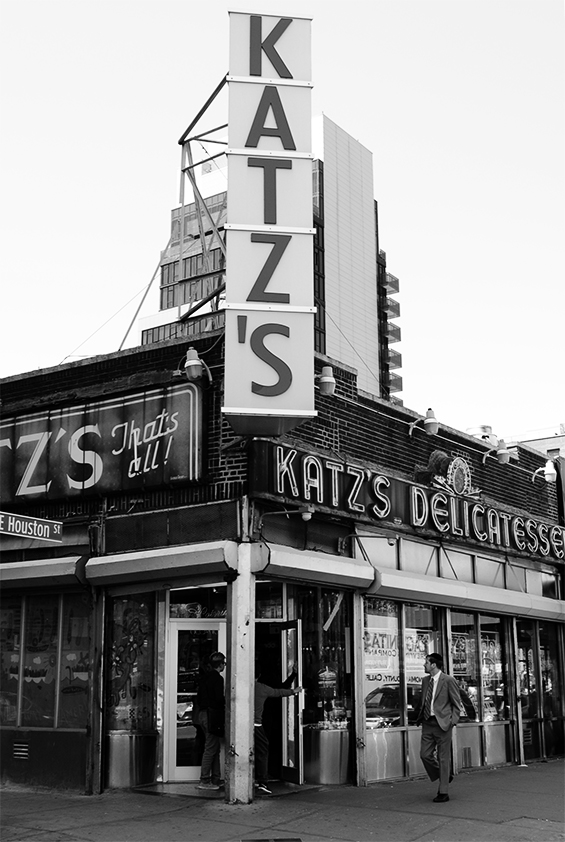 The actual Deli scene was shot at the famous Katz's restaurant located at 205 Houston Street, on the southwest corner of Houston and Ludlow Streets on the Lower East Side in Manhattan. In the scene Harry and Sally are having lunch, casually arguing about a man's ability to recognize when a woman is faking an orgasm. Sally claims that men cannot tell the difference, and to prove her point, she vividly fakes one as other diners watch. The scene ends with Sally casually returning to her meal as a nearby patron places her order: "I'll have what she's having."
otsoNY Tip: Katz's Deli is extremely popular and is often full to bursting during the lunch and dinner time rush hours, so it is best to avoid these times, especially if you want to sit at the actual table used in the movie, where a sign still hangs above it saying: "Where Harry met Sally... hope you have what she had!"
8. Friends
Although the television series Friends never actually made it onto the big screen, or in fact was actually shot in New York City, it still features in otsoNY's essential list. The American television sitcom waS created by David Crane and Marta Kauffman, and ran for ten seasons, starting with Rachel Green, played by Jennifer Aniston fleeing her wedding day and seeking out her childhood friend Monica Geller played by Courteney Cox. They soon become roommates, and Rachel joins Monica's social circle of single people in their mid-20s: struggling actor Joey Tribbiani, business professional Chandler Bing, masseuse and musician Phoebe Buffay, and newly divorced paleontologist Ross Geller, Monica's older brother. To support herself, Rachel becomes a waitress at Central Perk, a Manhattan coffeehouse where the group often hangs out; when not there, the six are usually at Monica and Rachel's nearby West Village apartment, or Joey and Chandler's across the hall.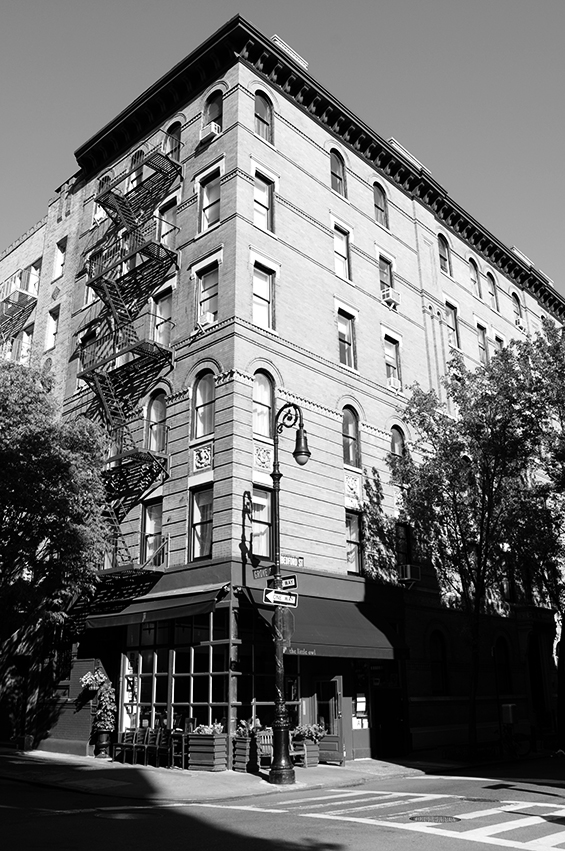 Although the producers always wanted to find the right stories to take advantage of being on location, Friends was never shot in New York. They felt that filming outside the studio made episodes less funny, even when shooting on the lot outside, and that the live audience was an integral part of the series. When the series was criticized for incorrectly depicting New York, with the financially struggling group of friends being able to afford huge apartments, the producers noted that the set had to be big enough for the cameras, lighting, and for the audience to be able to see what's going on. The apartments also needed to provide a place for the actors to execute the funny scripts.
otsoNY Tip: The actual apartment building is located at the corner of Grove and Bedford Street and a panning exterior shot was often used between scenes. The area is reasonably quiet, with the silence only being broken by various tour groups walking through. The best place for taking photographs and selfies is from the opposite side of the street, next to the lamp post on Grove Street.
7. 9½ Weeks
The title of the film referred to the duration of the relationship between Wall Street arbitrageur John Gray played by Mickey Rourke and divorced SoHo art gallery employee Elizabeth McGraw played by Kim Basinger. Several locations throughout New York City were used in the 1986 film, but it was the 5-story building at the corner of Spring and Mercer Street, which is greatly remembered by 80s movie fans as the Art Gallery where Kim Basinger famously sat on the entrance steps reading a newspaper.
The building has recently undergone some major restoration work, and has now been officially heritage listed as it is the last standing example of a cast iron building in the area of SoHo. In 1968, Donald Judd purchased 101 Spring Street, which had been designed by British architect Nicholas Whyte and constructed in 1870. It was the first building Judd owned, and he had an intense appreciation for its architecture. As one of the founding sites in the program of Historic Artists' Homes and Studios for the National Trust for Historic Preservation, 101 Spring Street is the only intact, single-use cast-iron building remaining in SoHo. This distinction has earned it the highest designation for national significance as part of the SoHo Historic Cast-Iron District.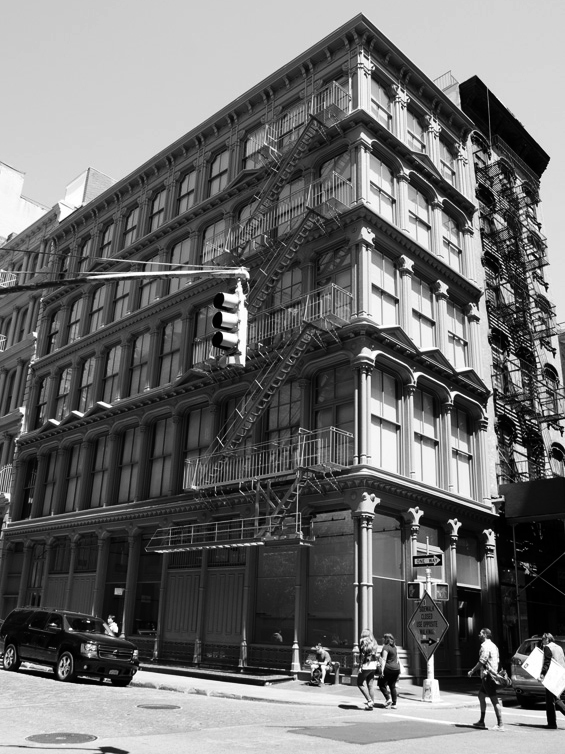 The building is long and shallow at twenty-five by seventy-five feet, and has an unusually open façade, with windows taking up two-thirds of the façade surface. Serving as the workplace for Kim Basinger's character, Elizabeth McGraw, 101 Spring Street was originally used as a button and hat factory before attracting Donald Judd to its vast expanses of full height glass windows in a very non-residential area at the time. In the film it is solely used as an art gallery, displaying the artwork of Elizabeth's struggling clients. In fact the artwork was supplied by the famous New Jersey photographer, Sarah Charlesworth.
otsoNY Tip: Located at the corner of Spring and Mercer Street, this is generally an extremely busy area of New York with shoppers and tourists milling around throughout the day. Obtaining a Selfie in front of this impressive building is extremely difficult, so it is recommended that an early morning visit be more worthwhile, especially if you would prefer a clear and uncongested photograph.
6. The Prince of Tides
Fans of the television show, Gossip Girl will recognise the townhouse at 4 East 47th Street more as the residence of Nate Archibald and his family rather than the elegant offices of Dr. Susan Lowenstein from the 1991 film, The Prince of Tides, which saw Tom Wingo played by Nick Nolte, a teacher and football coach from South Carolina, travel to New York upon the request of his mother to help his twin sister's psychiatrist played by Barbra Streisand. As the weekly therapy sessions continued throughout the long hot summer, Tom and Susan shared more time together out of the office and soon became lovers. Fast forward to the heart-wrenching final scene when Tom realises that he needs to be loyal to his wife and children, despite having fallen for Susan. As he stands alone on the opposite side of the street with a solemn expression, his glance casually falling upon the doorway where Susan now appears, and who's happiness vanishing into sadness as she quickly realises that their love affair is over. The scene concludes with them holding each other in this street... one last time.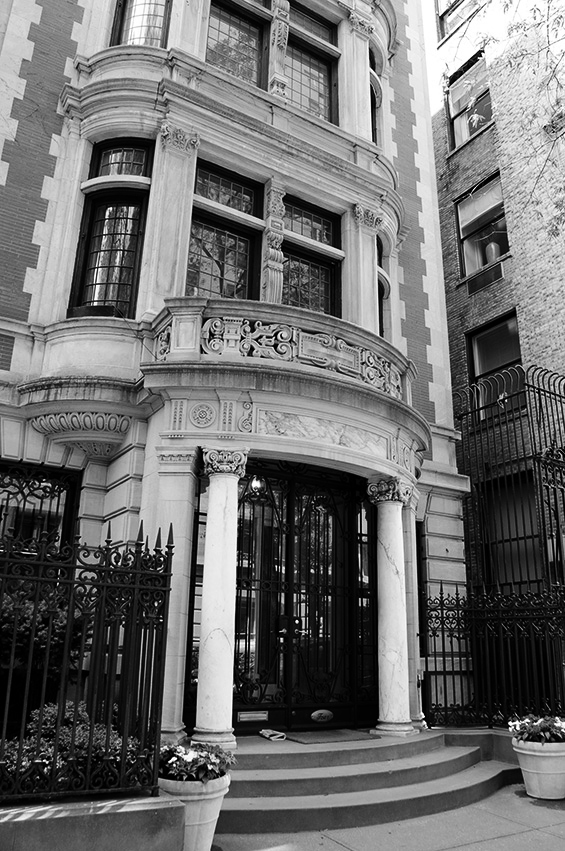 The six-story townhouse was built in 1910 and measures 11,296 square feet, and was once the residence of French artist Marc Zakharovich Chagall, who in 1941 after the Nazi's occupied Paris, fled to New York with his wife.
otsoNY Tip: The townhouse is located on 47th Street between the avenues of Fifth and Madison which is traditionally a very quiet area of New York. It is worth visiting the townhouse during Halloween as it is skilfully decorated with zombies and ghosts.
5. The Seven Year Itch
The title of the film refers to a psychological term that suggests that happiness in a relationship declines after around year seven of a marriage, and it was first used to describe an inclination to become unfaithful in the play The Seven Year Itch by George Axelrod, and gained popularity following the 1955 film adaptation which starred Marilyn Monroe and Tom Ewell as Richard Sherman, a nerdy, faithful, middle-aged publishing executive with an overactive imagination and a mid-life crisis, whose wife Helen and son Ricky are spending the summer in Maine. When he returns home with the kayak paddle Ricky accidentally left behind, he meets a woman, a commercial actress and former model who rents the apartment upstairs while in town to make television spots for a brand of toothpaste. That evening, he works on proofreading a book in which psychiatrist Dr. Brubaker claims that a significant proportion of men have extra-marital affairs in the seventh year of marriage. Richard has an imaginary conversation with Helen, trying to convince her, in three fantasy sequences, that he is irresistible to women, including his secretary, a nurse and her bridesmaid, but she laughs it off. Suddenly and without any warning, a tomato plant crashes into his lounge chair; the woman upstairs quickly apologizes for accidentally knocking it over, and Richard invites her down for a drink.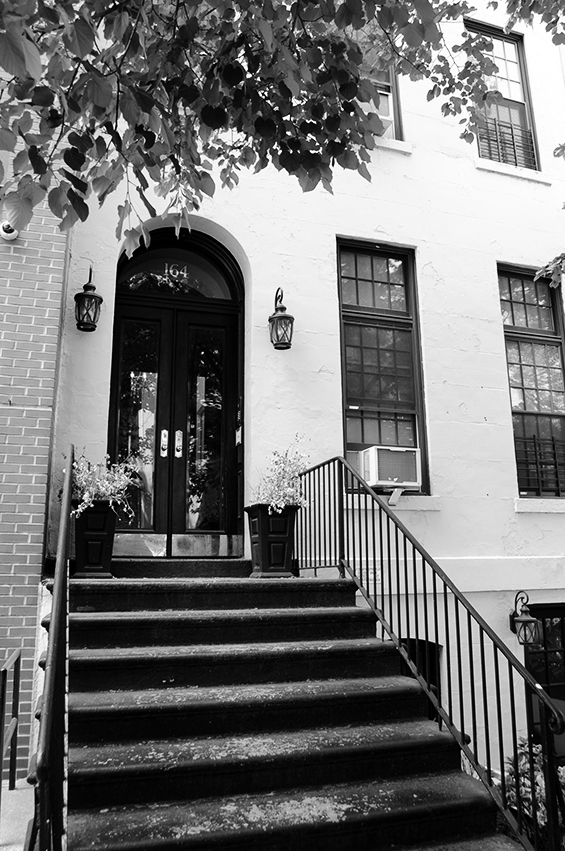 The exterior shooting location of Richard's apartment was 164 East 61st Street in Manhattan, and although far less famous than the scene on Lexington Avenue where Monroe's dress billows over a subway grate, the townhouse still looks virtually the same as it appeared in the film. Unfortunately, the link between it and the late Marilyn Monroe is rapidly fading, as it's now been over sixty years since the actress stood posing on the entrance steps in front of a host of photographers, generously giving the world that famous smile.
otsoNY Comment: 164 East 61st Street is between 3rd and Lexington, and although the fame has left this property behind, it is still worth visiting and posing where one of Hollywood's starlets once stood.
4. Crocodile Dundee
When following in the footsteps of Mick Dundee as he discovers New York City, there are several locations worth visiting, but none more-so than that of the bar at the corner of East 7th Street and Avenue B. Many movie fans will have already recognised it from The Godfather Part II and more recently the indie, Begin Again.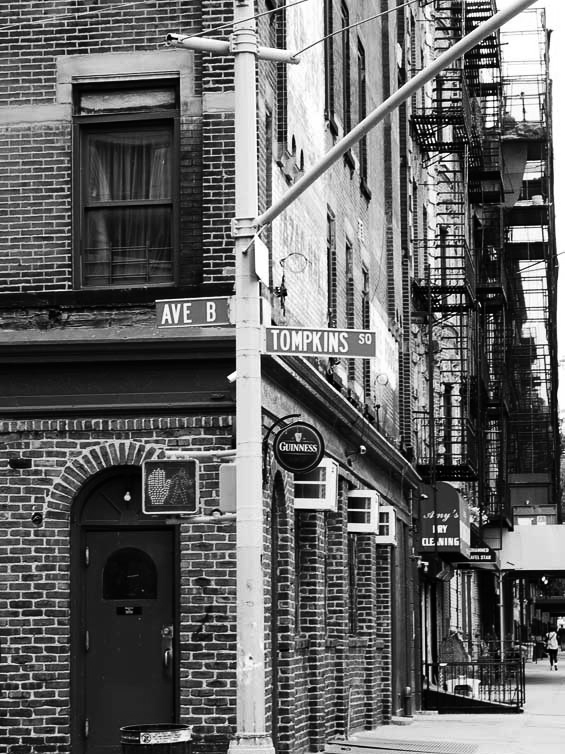 After Mick played by Paul Hogan arrives in the Big Apple, having been invited by Newsday's feature writer, Sue Charlton so that they could continue the story, he soon realises that life in the city is quite different to that in Walkabout Creek. Perplexed by local behaviour and customs, he is still able to overcome problematic situations including two encounters with a pimp and two attempted robberies. His sanctuary though, lies in a bar downtown where he tells the locals about his adventures in the Australia outback and flirts with someone who turns out to be a transvestite.
otsoNY Comment: Vazac's Horseshoe Bar is adjacent to Tompkins Square Park in Alphabet City and was built in 1935. It was originally a Polish catering hall and often referred to as 7B, since it is located on the corner of 7th Street and Avenue B. It should be noted that this is not traditionally a tourist area and you would be wise to visit during daylight.
3. Breakfast at Tiffany's
The opening scene of this film is probably just as famous as the Marilyn Monroe subway grate moment in The Seven Year Itch. Set in the early part of the morning, a yellow taxi pulls up outside the Tiffany & Co. Store on Fifth Avenue, from which elegantly dressed Holly Golightly played by Audrey Hepburn emerges. For a brief moment, she stands gazing at the jewellery on display, holding a pastry and a cup of coffee, before strolling home to go to bed.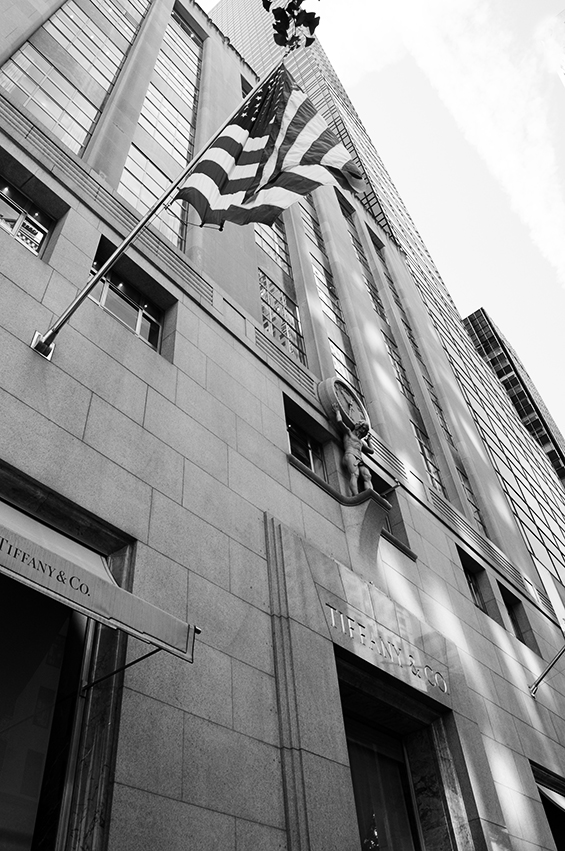 Since 1940, Tiffany's flagship store has operated at the corner of Fifth Avenue and East 57th Street in Manhattan. The polished granite exterior is well known for its window displays, and the store has been the location for a number of films such as Sweet Home Alabama, Sleepless in Seattle and For Love or Money.
otsoNY Tip: The store attracts groups of tourists from mid-morning until late, and for anyone wanting to play-out the famous breakfast scene without onlookers would need to be there in the early hours of the morning.
2. Ghostbusters
In 1984, the state of New York employed three eccentric parapsychologists; Peter Venkman, Raymond Stantz and Egon Spengler in an attempt to rid the city of ghosts. The main focal point of spiritual activity was linked to an uptown high-rise apartment building where art-restorer Dana Barrett lived. She had reported the mysterious activities coming from her refrigerator to the Ghostbusters, who in turn made a brief visit to her apartment, which some thirty years on is still referred to as Spook Central, as it is situated on Central Park West.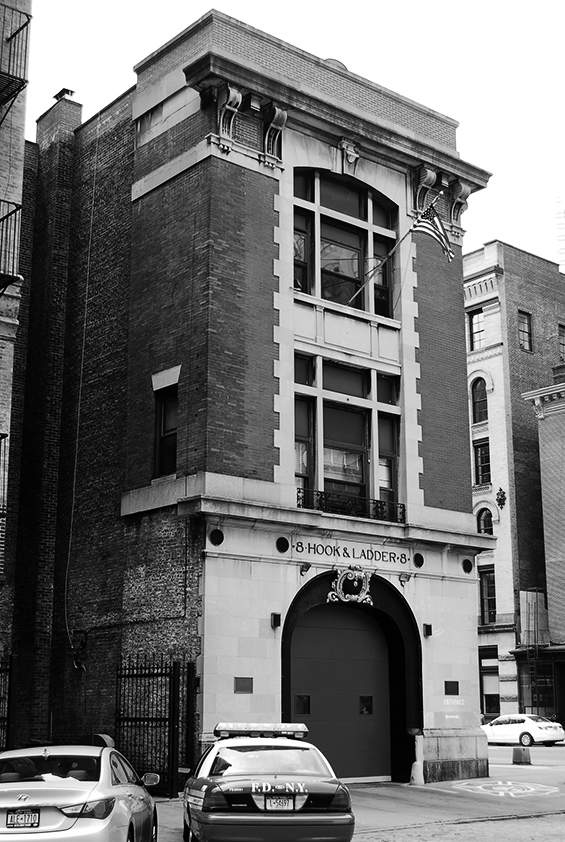 The main headquarters for the Ghostbusters business was a disused, run-down firehouse. When the trio were touring the station with the Realtor, Egon Spengler considered it unacceptable with it being in poor condition structurally, having unacceptable wiring for their equipment needs and that it was in a bad neighbourhood. However, when Ray Stantz, whose money was financing the operation, proved childishly delighted with the property, especially with the fire poles, his partners decided they had no choice but to purchase it.
otsoNY Comment: Whilst the interior shots were filmed in a decommissioned Los Angeles-area firehouse which was also used in National Security, The Mask, Big Trouble in Little China and Flatliners, the exterior shots are from the working firehouse in the Tribeca area of New York City on the Avenue of the Americas. If you are able to take a quick glance inside, you might see the sign from Ghostbusters 2 still displayed on the wall.
1. Sex and the City
The famous HBO comedy series crossed over to the big screen in 2008 and continued to follow the lives and loves of Carrie Bradshaw and her 3 friends. Written and directed by Michael Patrick King, it starred Sarah Jessica Parker as Carrie Bradshaw, Kim Cattrall as Samantha Jones, Kristin Davis as Charlotte York Goldenblatt and Cynthia Nixon as Miranda Hobbes.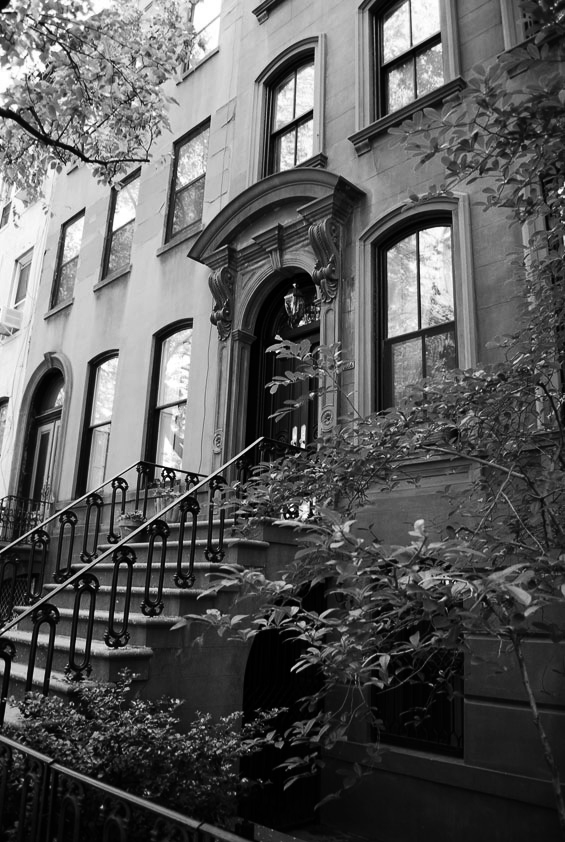 The home of Carrie Bradshaw was a brownstone on Perry Street, where she would often be found sitting at a desk close to the window typing on her laptop. It wasn't until Season Five that the show's producers finally used an actual real location in New York. Up until then, close-ups were only of the front window and shot on a sound stage.
otsoNY Comment: Even now after years have passed by since the television show came to an end, fans are still posing beside the brownstone, which is easily noticeable as the actual residents of 66 Perry Street have attached a chain across the lower part of the steps with a keep-out notice.
That's all for now... Enjoy your stay in New York City...
Quick Links
Chart Listings
Disclaimer
All images that appear on the site are copyrighted to their respective owners and otsoNY.com claims no credit for them unless otherwise noted. If you own the rights to any of the images and do not wish them to appear on the site please contact us, and they will be promptly removed.