Greatest New York Film Scenes
On the Set of New York.com presents a collection of the most famous, distinguished, unforgettable and memorable film scenes shot in New York City. From "Breakfast at Tiffany's" when Audrey Hepburn as Holly Golighty, still wearing a Givenchy evening dress from the night before, staring dreamily into gem-filled Tiffany's window as she consumes a breakfast of take-out coffee and a Danish - to - "Vanilla Sky" where Tom Cruise as David Aames finds himself completely alone in Times Square.
The Seven Year Itch (1955)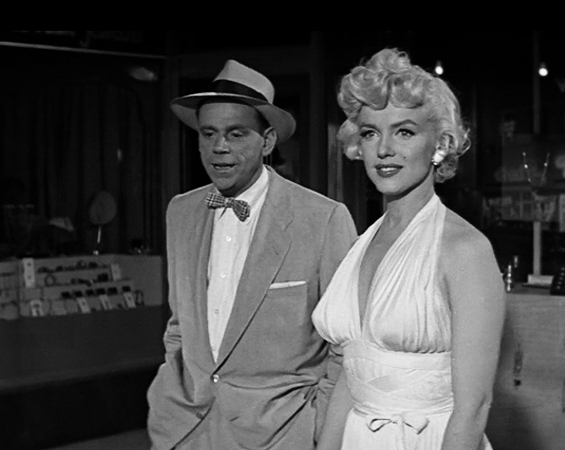 By the early 1950's Hollywood production crews could be found frequently filming location sequences in New York City. Although these film shoots almost always attracted the attention of the city's press and residents, none drew a fraction of the attention as the scene filmed on location during a cold night on September 15th in 1954 along Lexington Avenue between 51st and 52nd Street, for a motion picture called "The Seven Year Itch". Directed by Billy Wilder the sequence required Tom Ewell and Marilyn Monroe to linger outside the Trans-Lux Theatre as a gust of wind from a passing subway train blew Monroe's dress up around her waist, revealing a glimpse of her underwear.
Advance notice of the film shoot, which began at 1am, brought out dozens of photographers and many onlookers, who watched for almost 3 hours as Marilyn Monroe continually missed her lines, forcing Wilder to call for take after take. In the end, ironically, the footage went unused, as the film's producers decided to reshoot the entire scene on a Fox stage because of supposed problems with the sound quality.
Locations: The Seven Year Itch
Breakfast at Tiffany's (1961)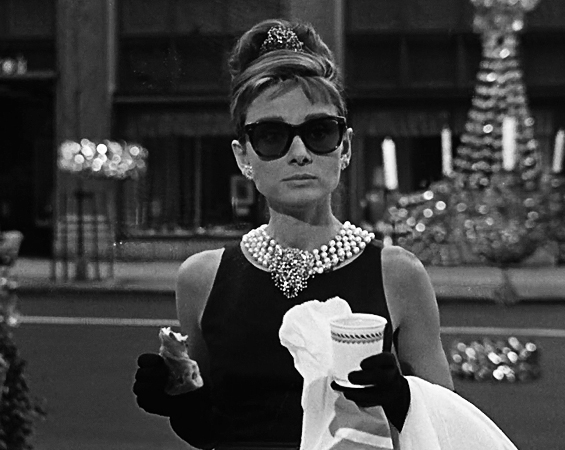 Among the most romantic of all sequences filmed in New York City are those in Blake Edwards' screen adaptation of Truman Capote's tale, "Breakfast at Tiffany's". The film's opening sequence showed Audrey Hepburn as Holly Golightly, still wearing a glamorous evening dress from the night before, staring dreamily into Tiffany's gem-filled window as she consumes a breakfast of coffee and a Danish pastry. The scene took place very early on a Sunday morning at the corner of 5th Avenue and 57th Street.
Locations: Breakfast at Tiffany's
Midnight Cowboy (1969)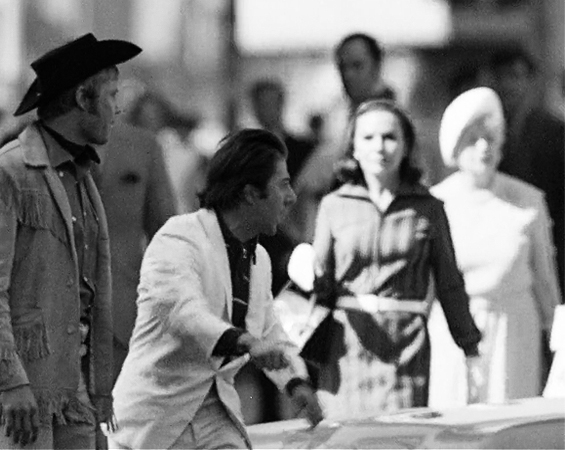 In 1969, director John Schlesinger put newcomers Jon Voight and Dustin Hoffman together in New York City as two hustlers who walk the streets looking for easy ways to make money in a time of hardship. Whilst deep in conversation, Rizzo, who was played by Hoffman, blithely walks into traffic at 58th Street and 6th Avenue.
According to Dustin Hoffman himself, the taxi incident was not scripted. During an L.A. Times interview in January 2009, he said that the movie didn't have a permit to close down the NYC street for filming, so they had to set-up the scene with a hidden camera in a
van
driving down the street, and remote microphones for the actors. After 15 takes, it was finally going well, but this time, as they crossed the street, a taxi ran a red light. Hoffman wanted to say "Hey, we're SHOOTING here!" not only from fear of his life, but also from anger that the taxi driver might have ruined the take. Instead, being the professional that he is, he stayed in character and shouted "Hey, we're WALKING here!" and made movie history. Jon Voight also backs up this version of the incident, saying that seeing how well Hoffman was handling the situation, he likewise stayed in character. And, it added even more fame to
New York City taxi service!
Locations: Midnight Cowboy
Dog Day Afternoon (1975)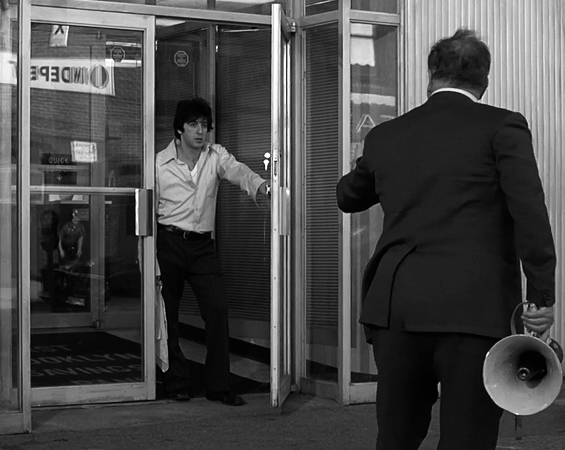 Based on an actual back robbery that took place in 1972, Sidney Lumet's film was shot almost in its entirety on a quiet stretch of shopfronts on Prospect Park West between 17th and 18th Street, just south of Park Slope, Brooklyn. Al Pacino played the mastermind bank robber Sonny Wortzik who would often leave the safety of the bank and stand in the street shouting abuse at the gun-pointing police.
Locations: Dog Day Afternoon
Kramer vs. Kramer (1979)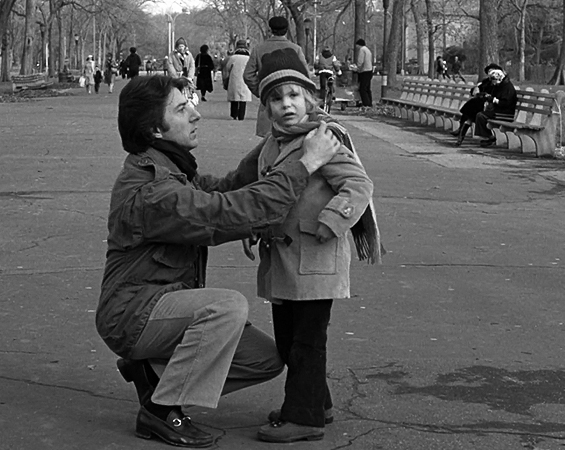 The transformation of Ted Kramer played by Dustin Hoffman from a career-obsessed ad man into a caring, attentive father after his wife of many years has abruptly left him is played out in this abiding ritual of family life in the city. The Mall in Central Park is the setting for this heart-rendering scene where Ted hands back his Son, Billy to his estranged wife Joanna. Unaware of the pain that his father feels, Billy runs happily into his mother's arms.
Locations: Kramer vs. Kramer
Manhattan (1979)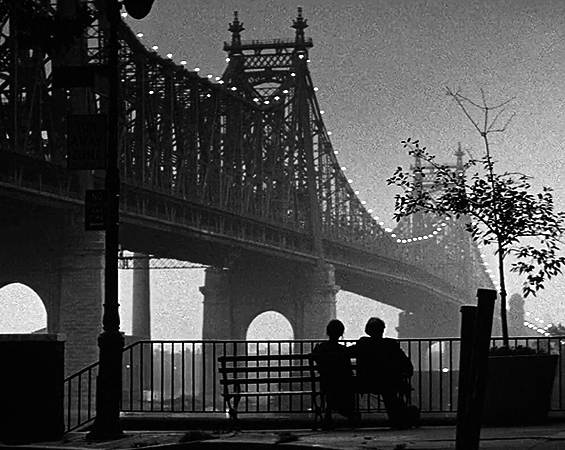 An all-night walk conversation between Isaac Davis played by Woody Allen and Mary Wilkie played Diane Keaton comes to an end in this memorable scene, which was shot at the foot of 58th Street, over-looking the East River and Queensboro Bridge at around 4am on the morning of August 14th, 1978. Except for the string lights on the bridge, which the filmmakers arranged with the city to leave on, and the street lamp, which they arranged to turn off, the scene was shot entirely with available light. This was Woody Allen's first film shot using the widescreen (2.35:1) anamorphic Panavision process.
Locations: Manhattan
Fame (1980)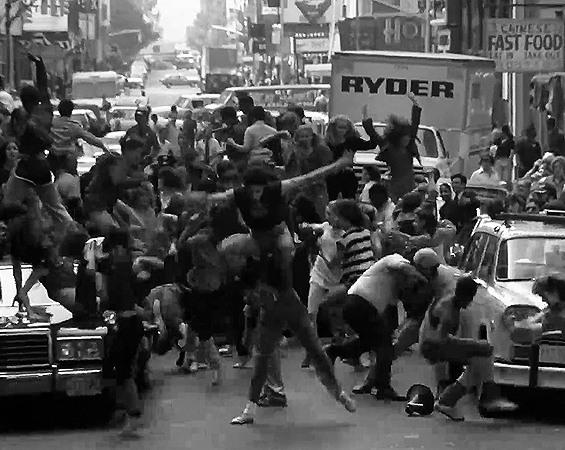 For the film's title number, in which students spill out of the city's High School for Performing Arts and perform an impromptu dance routine among midtown traffic, the filmmakers arranged with the Mayor's Office to close 46th Street for several days in the summer of 1979. The actual Performing Arts school building which was on the left side of the street was not used in the film after the school board read the script and felt that the bad language would reflect badly on the school. In the end, the filmmakers had tro settle with a decommissioned church on the right side of 46th Street. As the Irene Cara song was not complete, the dancers had to dance to a Pointer Sisters song inside. The song was later replaced in post production.
Locations: Fame
Ghostbusters (1984)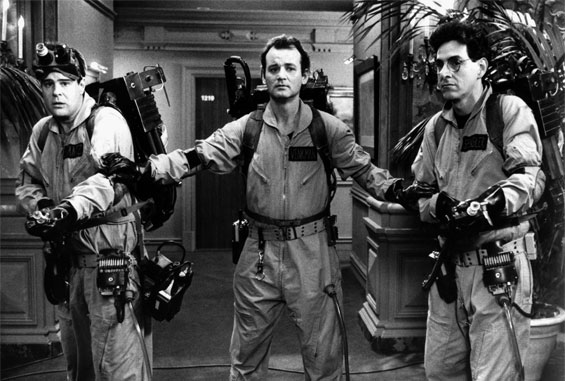 As the years have passed by, the original Ghostbusters film has become known as a cult classic. Shot in the great days of the 1980's when films only ran for a mere 90 minutes and had a beginning, middle and an end, Ghostbusters was the pinnacle for science fiction meets comedy. Starring alongside comedian Bill Murray was fellow comic Dan Aykroyd and Harold Ramis better known as The Ghostbusters.
When New York City comes under attack from the paranormal and a hotel manager has been receiving complaints from the guests - who are you going to call? In this scene, the Ghostbusters arrive at the hotel in supposeably downtown Manhattan, but is in fact the famous Biltmore Hotel in Los Angeles on the corner of 5th and Grand. This famous location has been used for hundreds of films, TV shows, commercials and even a few music videos. The three doors that the Ghostbusters walk through in the film are actually located on the entrance on 5th St. The Grand Avenue entrance leads you to the main lobby, which used to be the hotel ballroom, as seen in the film.
Locations: Ghostbusters
Desperately Seeking Susan (1985)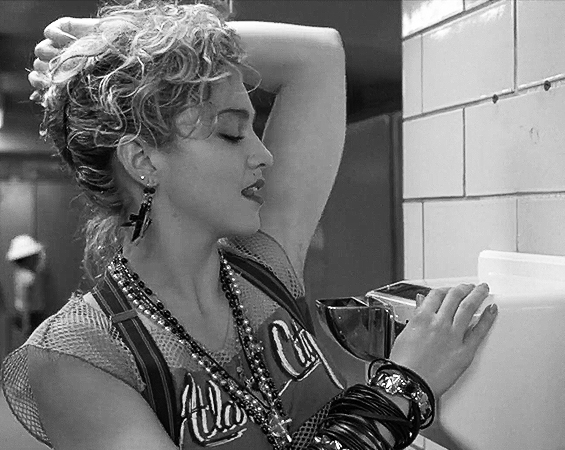 The filming schedule for Desperately Seeking Susan was 10 weeks in total and was Madonna's debut film. In an amusing, character-defining moment, Susan played by Madonna arriving at the uptown Port Authority Bus Terminal on 181st Street, prepares for her entrance to the city by using the restroom's hand dryer in an unconventional way, a moment that the actress improvised on the spot.
Locations: Desperately Seeking Susan
Crocodile Dundee (1986)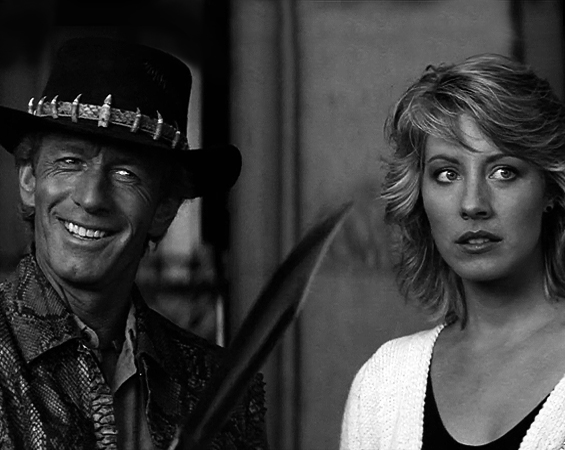 Michael J. "Crocodile" Dundee is an Australian crocodile hunter who visits New York City, and soon finds the culture and life a lot different than his home town of Walkabout Creek. Whilst on a night out in the city with journalist Sue, they are accosted by a mugger who demands that they hand over their money. Scarred for her life, and seeing that the mugger has a knife, Sue tells Mick to do as they have been told. Unfazed, Mick chuckles, "That's not a knife," then draws a large Bowie knife which is 10 times the size of the muggers and says, "That's a Knife!"
Locations: Crocodile Dundee
Big (1988)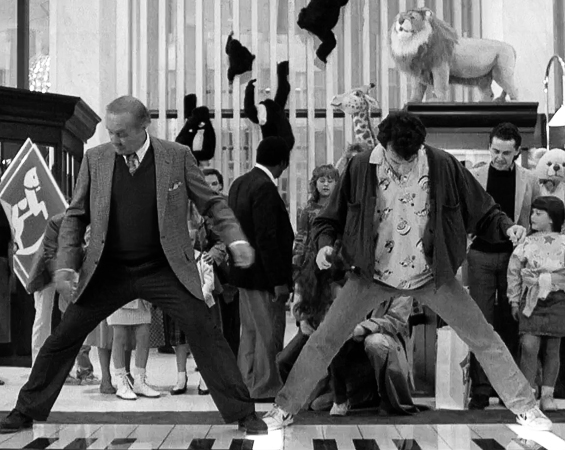 The toy store on 5th Avenue provided the setting for the fondly remembered scene in which Robert Loggie, a toy company executive making weekend rounds, joins Tom Hanks, a 13 year old boy inhabiting the body of a man, in a spirited duet on a giant electronic keyboard. Though most of the displays were those found in the actual store, the overscaled keyboard was added by the film's production designer as a way to subtly reinforce the movie's underlying confusion of big and small.
The 16ft (4.9m) piano has since been given to a US children's museum in Philadelphia, Pennsylvania. The instrument was offered to the Please Touch Museum by a US couple who bought it after the film's release. It was built in Philadelphia by Remo Saraceni, who called his invention a Walking Piano.
Locations: Big
When Harry Met Sally (1989)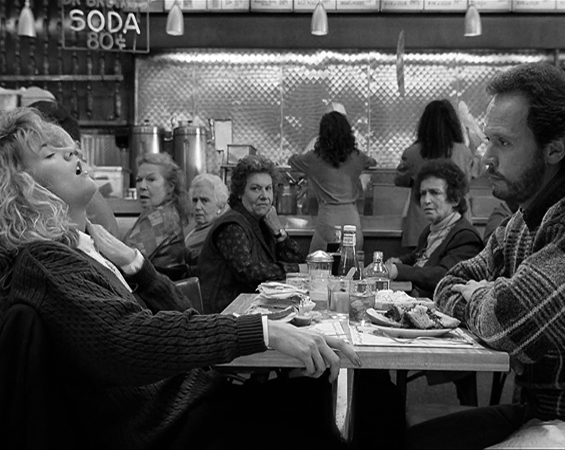 One of the most memorable location scenes in New York City's history was filmed at Katz's Delicatessen at 205 East Houston Street, featuring Meg Ryan, Billy Crystal and a customer played by the mother of the film's director Rob Reiner. The table at which the scene was filmed now has a plaque on it that reads, "Congratulations! You're sitting where Harry met Sally."
For the infamous orgasm scene, the original script called for just Harry and Sally to talk about women faking an orgasm, until Meg Ryan suggested that Sally actually fake an orgasm at the table. Rob Reiner loved the idea and put it into the script.
Locations: When Harry Met Sally
See No Evil, Hear No Evil (1989)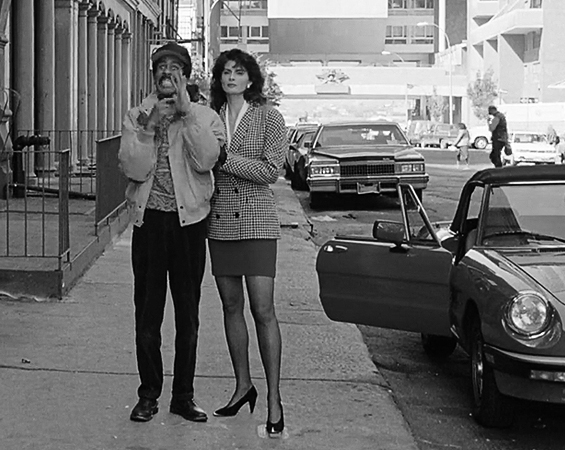 Gene Wilder agreed to do "See No Evil, Hear No Evil" only if he was allowed to re-write the script. The studio agreed and "See No Evil, Hear No Evil" premiered on May 1989 to mostly negative reviews. Many critics praised Wilder and Pryor, and even Kevin Spacey's performances but they mostly agreed that the script was terrible. Roger Ebert called it "a real dud", the Deseret Morning News described the film as "stupid", with an "idiotic script" that had a "contrived story" and too many "juvenile gags." On the other hand Vincent Canby called it "by far the most successful co-starring vehicle for Mr. Pryor and Mr. Wilder", while also acknowledging that "this is not elegant movie making, and not all of the gags are equally clever." The film has also gained a cult following in the past decade.
In this scene, blind Wally tries to warn his deaf friend Dave that the evil Eve and her accomplice Kirgo had managed to track them down.
Locations: See No Evil, Hear No Evil
Sleepless in Seattle (1993)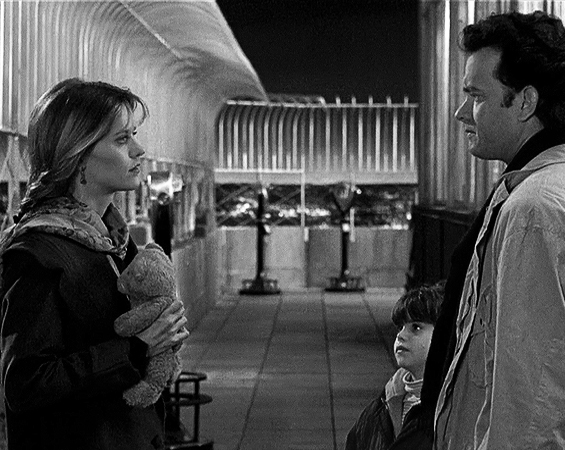 Sleepless in Seattle was a romantic comedy film written and directed by Nora Ephron. Based on a story by Jeff Arch, it starred Tom Hanks as Sam Baldwin and Meg Ryan as Annie Reed. The film was inspired by "An Affair to Remember" and used both its theme song and clips from the film in critical scenes. The climactic meeting at the top of the Empire State Building is a reference to a reunion between Cary Grant and Deborah Kerr.
The closing sequence of the film when Jonah and Sam return to the observation deck and finally meet Annie was shot in a warehouse with a replica version of the Empire State Building observation deck.
Locations: Sleepless in Seattle
It Could Happen to You (1994)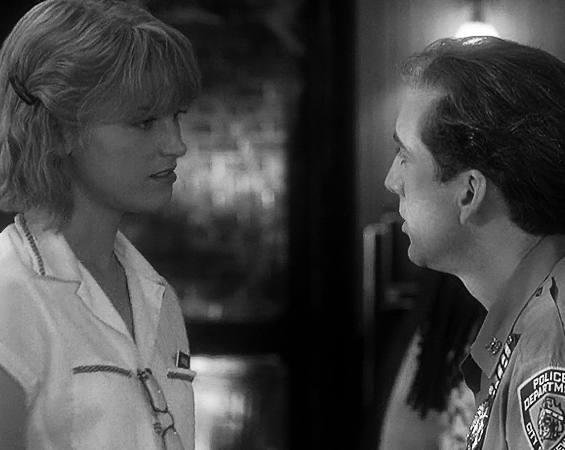 In the summer of 1994, Tribeca residents were startled to see two historic buildings suddenly appear on an empty lot at the corner of West Broadway and North Moore Street. The two structures, which included Federal style rowhouse, its first floor converted into a 1950s modernistic coffee shop were in fact an elaborate set created by the production team for "It Could Happen To You" starring Nicholas Cage and Bridget Fonda.
Cage who plays police office Charlie Lang meets Yvonne played by Fonda when she waits on him at the diner where she works. Since Charlie doesn't have enough money to pay the tip, he promises to give her either double the tip or half of his prospective lottery winnings the next day. He wins $4 million in the lottery the next day and keeps his promise, despite the protests of his wife.
Locations: It Could Happen to You
Leon (1994)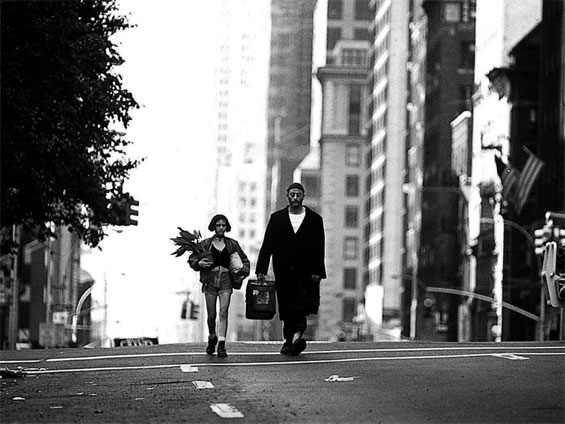 Leon: The Professional is a 1994 thriller film written and directed by Luc Besson. The film stars Jean Reno as the titular mob hitman; Gary Oldman as corrupt DEA agent Norman Stansfield; a young Natalie Portman, in her feature film debut, as Mathilda, a 12-year-old girl who is taken in by the hitman after her family is murdered; and Danny Aiello as Tony, the mobster who gives the hitman his assignments.
An undeniably tender moment in this film comes when Leon accompaines 12 year-old Mathilda, carrying his houseplant down an empty 7th Avenue. The pair are on their way to a new hotel, where she hopes that he will allow her to assist him in his next assassination.
Locations: Leon
Hackers (1995)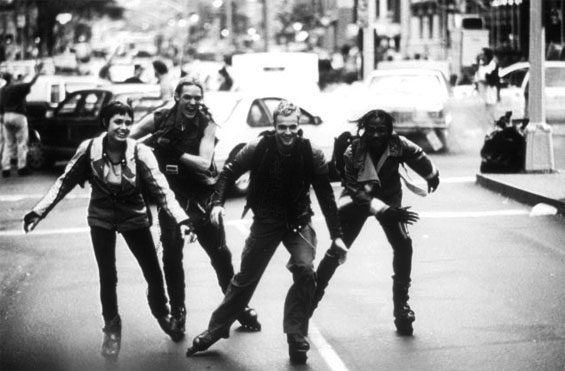 Hackers is a 1995 film that follows the misfortunes of the young hackers Dade Murphy played by Jonny Lee Miller, Kate Libby played by Angelina Jolie and their friends. It was written by Rafael Moreu and directed by Iain Softley. The movie failed to make a profit at the box-office, but has developed a cult following from its video release despite (or, in some cases, because of) inaccuracies in its portrayal of hacking and hacker culture. Metaphorical and graphical sequences are used as a substitute for the real actions involved in hacking and systems administration.
In this scene, the hackers skate through midtown Manhattan and along Park Avenue on their way to Grand Central Terminal where they plan to take down the evil Eugene Belford by hacking his mainframe computer.
Locations: Hackers
One Fine Day (1996)
Central Park was the perfect setting for this scene where sophisticated divorcees Jack Taylor played by George Clooney and Michelle Pfeiffer as Melanic Parker reliving the joys of splashing through puddles as they race with their kids through the park. This scene was also used for the film's promotional poster.
Locations: One Fine Day
As Good As It Gets (1997)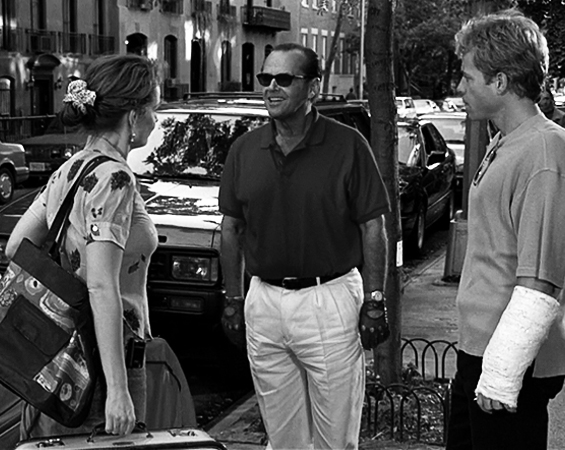 Melvin Udall is a cranky, obsessive-compulsive writer who finds his life turned upside down when neighbouring gay artist Simon is hospitalised and his dog is entrusted to him. In addition, Carol, the only waitress who will tolerate him, must leave work to care for her sick Son, making it impossible for Melvin to eat breakfast. In this scene, Melvin has agreed to take Simon on a road trip to see his parents and for safe measure has invited Carol along for the ride. On introducing the two friends, Melvin jokingly says, "Carol the waitress.... Simon the fag!"
Locations: As Good As It Gets
One Night Stand (1997)
One Night Stand is a 1997 drama film by British director Mike Figgis. The first draft of the screenplay was written by Joe Eszterhas, who had his name removed from the project following Figgis' rewrite. In the final scene of the film, the two couples have dinner together and from an audience point of view, there are no clues as to which person is with until they leave the restaurant. Starring Wesley Snipes, Nastassja Kinski, Kyle MacLachlan and Ming-Na, the film is loosely based around the death of their friend, Charlie played by Robert Downey Jr. and how a one night stand with a stranger can unbalance the strongest of relationships.
Locations: One Night Stand
The Devil's Advocate (1997)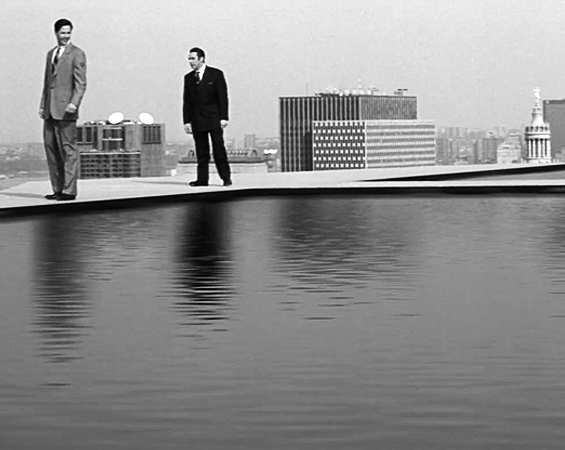 In this scene, an arrogantly charming but shadowy law partner played by Al Pacino interviews an ambitious new associate on a rooftop terrace of his office building in lower Manhattan, one whose unusual design includes a broad reflecting pool but no safety railing whatsoever.
Locations: The Devil's Advocate
Cruel Intentions (1999)
Sarah Michelle Gellar and Selma Blair's kiss in Cruel Intentions is to movies what Montana to Clark is to football: a seemingly impossible 60 seconds that can be instantly recalled by generations of men from just a simple two-word nickname. It's "The Kiss" versus "The Catch." Sarah Michelle Gellar's character, Kathryn sets out to corrupt the innocent and naïve Cecile played by Selma Blair in this teenage version of Dangerous Liaisons, and the resulting kissing lesson leaves Cecile wanting more, and when it's all over, she breathlessly exhales, "That was cool."
Locations: Cruel Intentions
Coyote Ugly (2000)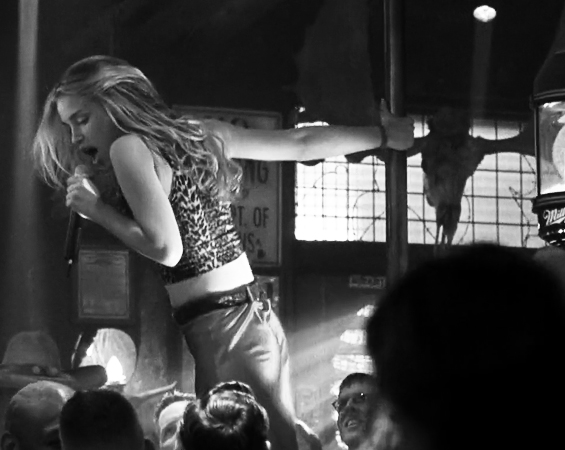 The film was based on an article, "The Muse of the Coyote Ugly Saloon", in GQ by Elizabeth Gilbert, who worked as a bartender in the East Village. The bar which opened in 1993 quickly became a favourite of the Lower East Side hipsters. The slang term "Coyote Ugly" refers to the feeling of waking up after a one-night stand, and discovering that your arm is underneath someone who is so physically repulsive that you would gladly gnaw it off without waking the person just so you can get away without being discovered. Coyotes are known to gnaw off limbs if they are stuck in a trap in order to facilitate escape.
In this scene Violet Sanford played by Piper Perabo dances on the bar. Whilst having water poured on her, she's unaware that her father Bill, who has made a surprise visit to the bar is standing in the crowd unimpressed at what he is witnessing.
Locations: Coyote Ugly
Serendipity (2001)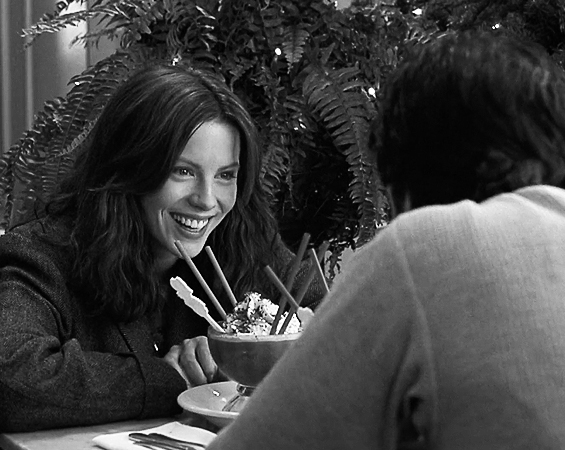 After their chance meeting at Bloomingdales department store, Sara Thomas played by Kate Beckinsale and Jonathan Trager played by John Cusack go for refreshments at Serendipity 3 at East 60th Street between 2nd and 3rd Avenue. The drink Sara and Jonathan order is the famous Frozen Hot Chocolate. Although parts of this scene were filmed on a stage, the owner of the business makes an appearance when Jonathan returns to the restaurant after having left his scarf there and the owner allows him to go upstairs to collect it. This scene was all shot at the Serendipity 3 and the table where Jonathan and Sara sat is now called the Star Table.
Locations: Serendipity
Vanilla Sky (2001)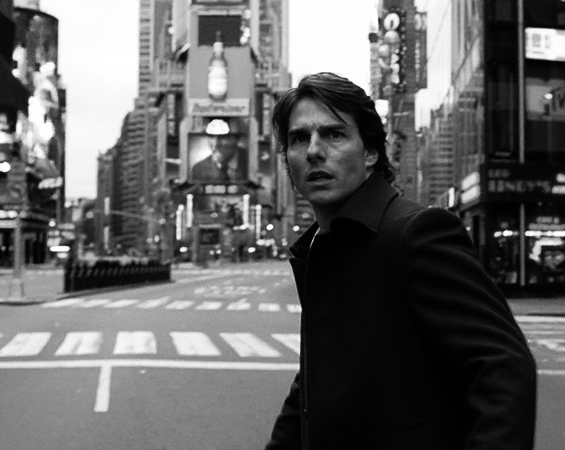 For this scene, Tom Cruise runs through a deserted Times Square wondering why he is the only person there. The film's producers spoke to the NYPD movie unit and requested to film in Times Square with one condition. It had to be completely empty. There was of course no way this could be achieved in normal daytime hours, but after closer inspection, on a Sunday morning from 4:30am until 6am, the place was virtually empty apart from the odd car and two all-night diners. So, it was agreed that the film crew would set up their camera's at midnight and wait for first light where they would have only one hour to capture the scene.
Locations: Vanilla Sky
Two Weeks Notice (2002)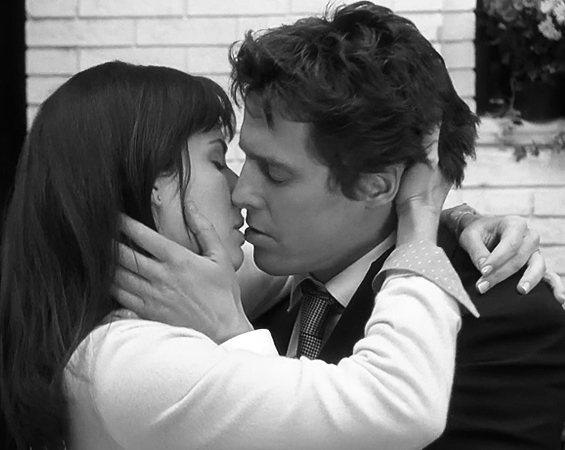 Two Weeks Notice is a 2002 romantic comedy starring Hugh Grant and Sandra Bullock, and was written and directed by Marc Lawrence. The film was originally set to film entirely in Toronto due to cheaper production costs, but producer and star Sandra Bullock insisted that a film about New York City must be made in New York City. It ended up being shot entirely on location within a 17-week span. It revitalized the economy of New York City after the terrorist attacks of 11 September 2001 and allowed businesses to flourish once again. In honour of the cast and crew's contribution to the city, December 11th, 2002 was named "Two Weeks Notice" Day by the Mayor of New York City. At the end of the film, Hugh Grant's character visits Lucy played by Sandra Bullock at her new workplace and confesses his true feelings for her. She ignores him and he leaves the legal aid office, only to find moments later, Lucy running after him and jumping into his arms, concluding in a long embrace.
Locations: Two Weeks Notice
Maid in Manhattan (2002)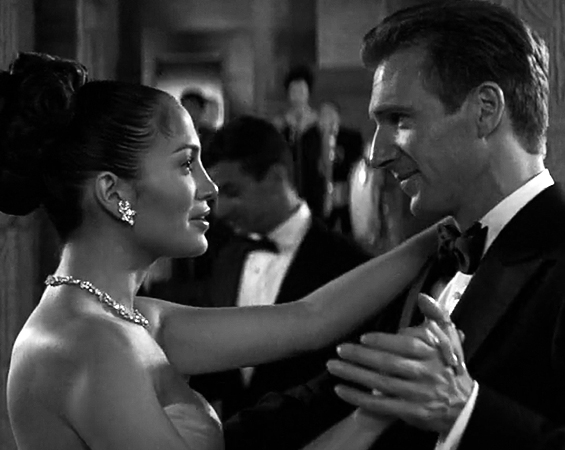 Maid in Manhattan is a romantic comedy film directed by Wayne Wang about a hotel maid and a high profile politician who fall in love starring Jennifer Lopez, Ralph Fiennes and Natasha Richardson. It is based on a story by John Hughes who is credited using a pseudonym. As the friendship blossoms between the leading characters, they spend an evening together at the world famous MET in New York City where Jennifer Lopez's character gets to experience one night as Cinderella.
Locations: Maid in Manhattan
13 Going on 30 (2004)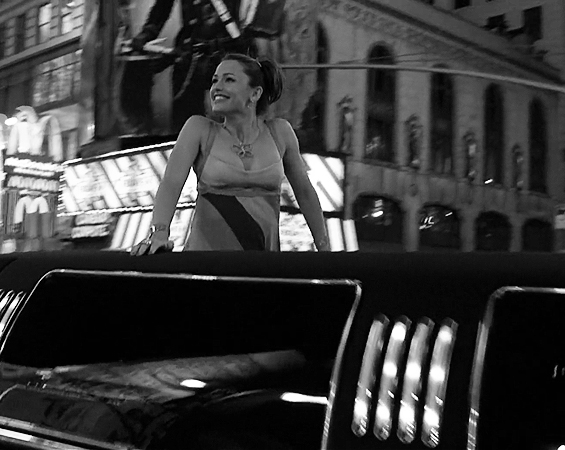 The bright dazzling lights and signs of New York's Times Square frame the excited Jenna Rink, a 13 year old girl somehow transformed into the body and life of a thirty year old New York career woman played by Jennifer Garner, as she passes through in an open top limousine in the 2004 film, 13 Going on 30.
Locations: 13 Going on 30
Alfie (2004)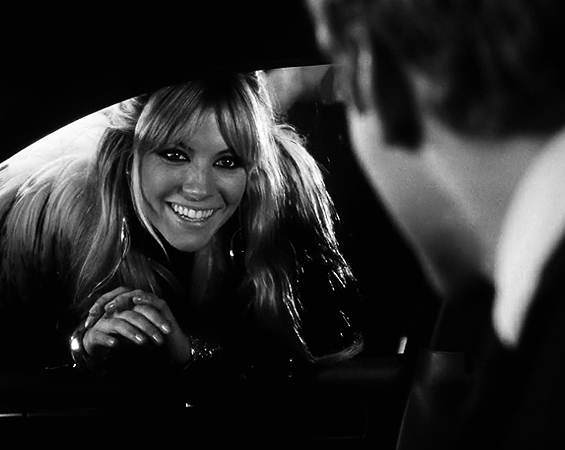 Jude Law took the place of Alfie in the 2004 remake, but it wasn't his performance that left a mark on the audience's mind but that of Sienna Miller who played Nikki, an uncontrollable party girl, that Alfie meets outside the Tavern on the Green restaurant. The slow motion effect used on Sienna as she gracefully turns around can be only compared to that of Cameron Diaz in debut film, The Mask, when she entered the bank in a painted-on red dress whilst flicking her hair back just as the 1970's Charlie's Angels once did on the small screen. The Cinematography was key during this sequence and throughout the rest of the film.
Locations: Alfie
Closer (2004)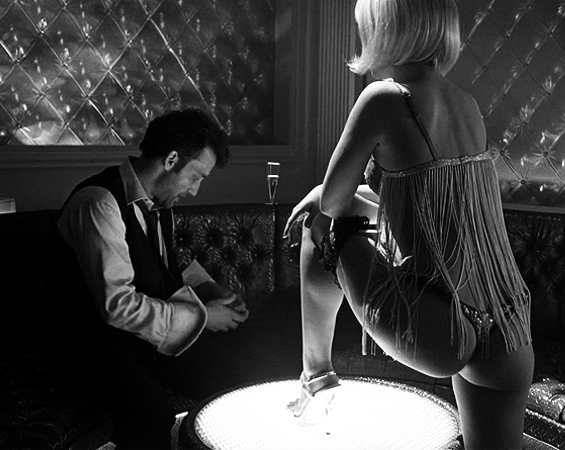 Closer is a 2004 romantic drama film written by Patrick Marber, based on his award-winning 1997 play of the same name. It was produced and directed by Mike Nichols and stars Julia Roberts, Natalie Portman, Jude Law and Clive Owen. The film, like the play on which it is based, has been seen by some as a modern and tragic version of Mozart's opera Così fan tutte, with references to that opera in both the plot and the soundtrack. Although much of the film was shot at Elstree Film and Television Studios in London, the closing scene was shot in New York's Time Square and thereby earned a place in OTSONY's film location section. Natalie Portman's character Alice supports herself while staying in London as a stripper, where she runs into Larry played by Clive Owen, who realises that he knows her, even though she is wearing a pink wig. He asks her if her name is Alice, knowing full well who she is, but no matter how much money he gives her, she keeps telling him her name is "Jane Jones." He asks her to come home with him so he can look after her, but she refuses.
Locations: Closer
Night at the Museum (2006)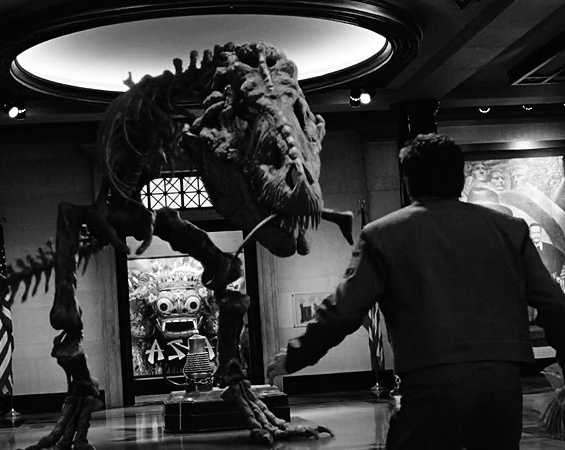 For anyone who has seen Jurassic Park and has been amazed at how the T-Rex trembles its way through the undergrowth and looks as life-like as your family pet, the makers of Night at the Museum went one step further and managed to have the bones of the T-Rex chase night watchman Larry Daley played by Ben Stiller through the corridors of the Museum of Natural History. The actual real museum located on the Upper West Side of Manhattan was only used for exterior shots.
Locations: Night at the Museum
Factory Girl (2006)
Sienna Miller stars as Edie Sedgwick, a young heiress studying art in Cambridge, Massachusetts. Upon moving to New York City, she is introduced to Pop Art painter and film-maker Andy Warhol. Intrigued by the beautiful socialite, he asks her to perform in one of his underground movies. Soon she is spending time with him at The Factory, his studio and also the hangout of a group of eccentrics, some of them drug addicts. Her status as Warhol Superstar and success as a fashion model gain her popularity and international attention. Katie Holmes was set to star as Sedgwick, but it was reported Tom Cruise convinced Holmes not to do it because it would be bad for her image. Regarding the rumours, Holmes said, "I declined the role in Factory Girl based on my own decisions about the movie." The role then went back to Miller. However, Holmes had also stated that even if she did take the part, she would have had to drop out because she was pregnant when the movie was set to begin filming. Although the film received generally negative reviews, Sienna Miller's performance as Edie Sedgwick was met with critical acclaim.
Locations: Factory Girl
Awake (2007)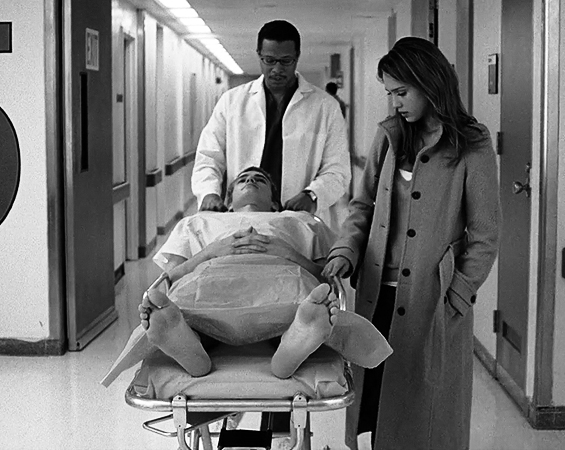 Hayden Christensen plays a wealthy man named Clayton Beresford who has a faulty heart and needs a heart transplant in the film, Awake. Against his mother's wishes, he will be operated on by his surgeon friend, Jack, instead of a prestigious doctor. He is also dating his mother's secretary Sam played by Jessica Alba, whom he marries on the eve of the surgery. In this scene, Clayton is heading to the operating theatre completely unaware that there is a plot to kill him and get his money until he finds that he is still awake during the operation, a phenomenon called Anesthesia Awareness.
Locations: Awake
Chapter 27 (2007)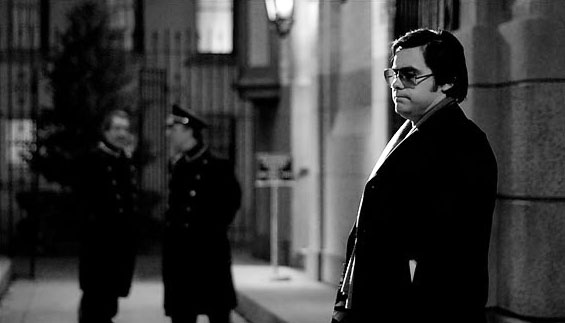 Chapter 27 is an independent film depicting the murder of John Lennon by Mark David Chapman, starring Jared Leto. It was written and directed by J. P. Schaefer. The film premiered at the Sundance Film Festival in January 2007 and the Berlin Film Festival in February. It received mostly negative reviews, although it did receive positive notices in Salon, The Hollywood Reporter and Entertainment Weekly. Jared gained 67 pounds for the role and at times he was confined to a wheelchair due to so much added weight.
In this climaxing scene, Chapman waits in the doorway of The Dakota. He is clean in his mind that by killing John Lennon is the right thing to do. Moments later, the singer arrives home and Chapman without any hesitation pulls his gun from his coat pocket and shoots him in the back.
Locations: Chapter 27
How to Lose Friends & Alienate People (2008)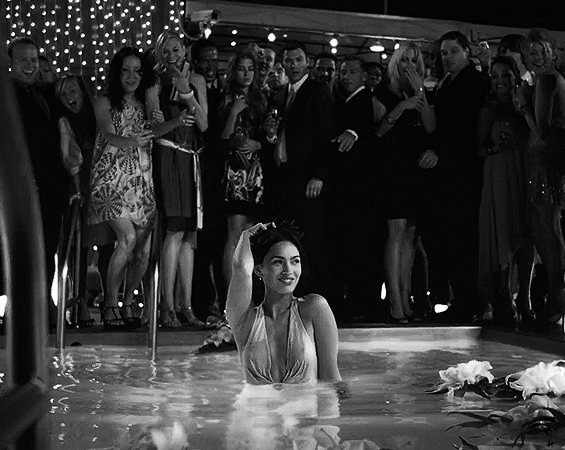 One of the most noticeable elements in any film is the sudden or memorable appearance of one of the main characters for the first time. Often, film entrances are not very extraordinary, but now and again, there are some that are very spectacular and skilfully executed. Film scarlet Megan Fox is no exception to the rule as she makes her opening appearance at an after party. Unable to make it across to her publicist who waits on the opposite side of the terrace, she decides that the best way would be via the swimming pool and so gracefully slips fully-clothed into the water, to the astonishment of the other guests.
Locations: How to Lose Friends & Alienate People
Deception (2008)
When Ewan McGregor's character Jonathan McQuarry personates his new found friend, Wyatt Bose and tricks Tina played by Maggie Q, a regular sex partner of Wyatt, to open the hotel room door thinking it is Wyatt, Jonathan proceeds to beg her to tell him the truth about Wyatt and the no-strings-attached sex ring for the rich. In the real world, of course, suit-wearing types employ expensive prostitutes, a reality which the film earnestly transforms into the saucer-eyed male fantasy of hot female yuppies who will have hotel-room sex without needing to be paid afterwards.
Locations: Deception
The Proposal (2009)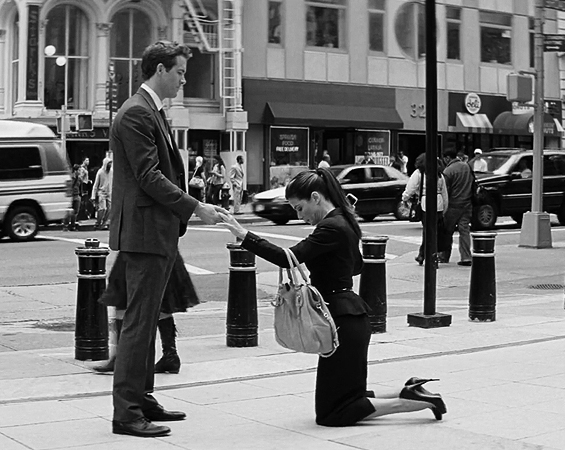 For three years, Andrew Paxton played by Ryan Reynolds has slaved as the assistant to Margaret Tate played by Sandra Bullock, hard-driving editor at a New York publisher. When Margaret, a Canadian, faces deportation for an expired visa, she hatches a scheme to marry Andrew. He'll only accept if she'll promise a promotion and officially propose to him. So, reluctantly Margaret agrees to his demands and whilst outside the U.S. Citizenship and Immigration offices kneels down and asks Andrew to marry her.
Locations: The Proposal
Wall Street: Money Never Sleeps (2010)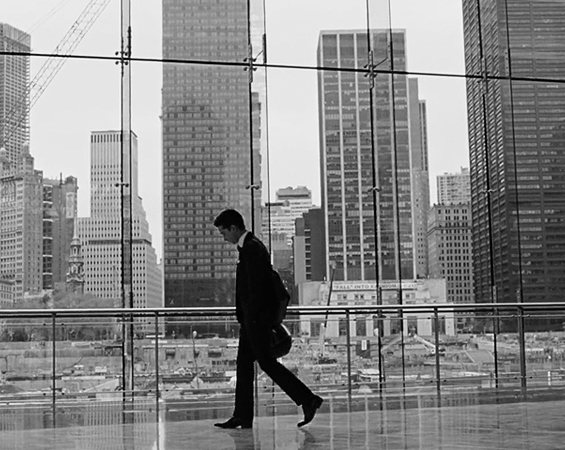 Wall Street: Money Never Sleeps, also known as Wall Street 2, is a 2010 American drama film directed by Oliver Stone, a sequel to Wall Street (1987). Michael Douglas reprises his role as Gordon Gekko with Shia LaBeouf, Josh Brolin, Carey Mulligan, and Frank Langella also starring in the film. The screenplay was written by Allan Loeb and Stephen Schiff. Set in New York, the film takes place 23 years after the original and revolves around the 2008 financial crisis. Its plot focuses on a reformed Gekko acting an antihero rather than a villain, and follows his attempts to repair his relationship with his daughter Winnie, with the help of her fiancé, Jacob. In return, Gekko helps Jacob get revenge on the man he blames for his mentor's death. In this scene, Shia LaBeouf's character walks across the lobby of the Millenium Hilton Hotel, in the distance the construction site of Ground Zero can be clearly seen.
Locations: Wall Street: Money Never Sleeps
The Adjustment Bureau (2011)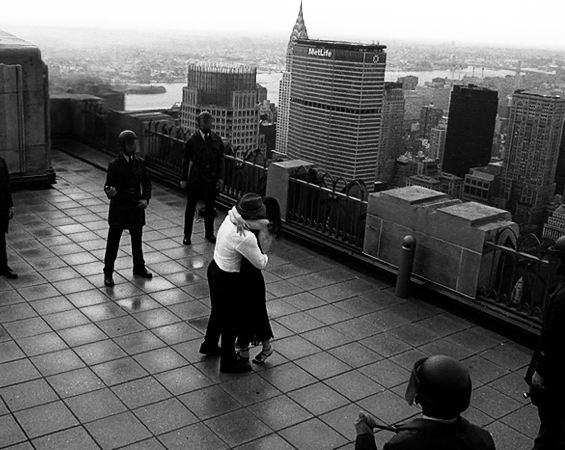 The Adjustment Bureau is a 2011 romantic action thriller film loosely based on the Philip K. Dick short story, "Adjustment Team". The film was written and directed by George Nolfi and stars Matt Damon and Emily Blunt. The cast also includes Anthony Mackie, John Slattery, Michael Kelly, and Terence Stamp. In early drafts of the script, the character Norris was changed from a real estate salesman, as in the short story, to an up-and-coming politician. Media Rights Capital funded the film and then auctioned it to distributors, with Universal Studios putting in the winning bid for $62 million. Nolfi worked with John Toll as his cinematographer and shots were planned in advance with storyboards but changed often during shooting to fit the conditions of the day. The visual plan for the film was to keep the camerawork smooth using a dolly or crane and have controlled formal shots when the Adjustment Bureau was in full control, with things becoming more loose and using hand-held cameras when the story becomes less controlled. The final scene which takes place on the rooftop of the GE Building in Rockefeller Center "Top of the Rock" was filmed four months after the rest of the film had completed shooting and has a different ending than the original.
Locations: The Adjustment Bureau
Friends with Benefits (2011)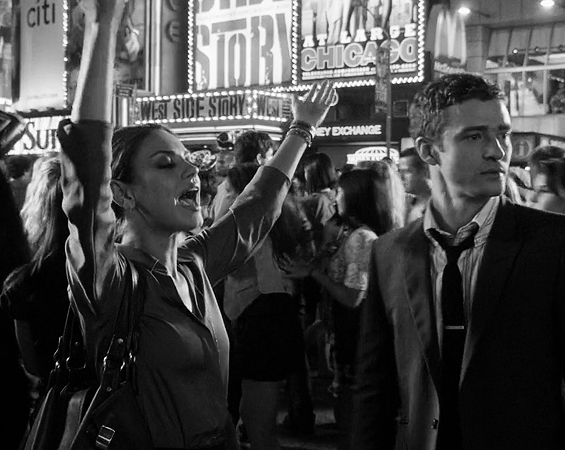 Friends with Benefits is a romantic comedy directed by Will Gluck and starring Mila Kunis and Justin Timberlake. The film features a supporting cast which includes Woody Harrelson, Bryan Greenberg, Jenna Elfman, Richard Jenkins, Nolan Gould and Patricia Clarkson. The plot revolves around Jamie and Dylan, who meet in New York City and naively believe adding sex to their relationship will not lead to complications. Over time they begin to develop deep mutual feelings for each other, only to deny it each time they are together. Filming took place in the Midtown Manhattan and Central Park. In this scene, Mila's character introduces Dylan to New York's prime location, Times Square, where a large crowd has gathered and are dancing in unison.
Locations: Friends with Benefits
Man on a Ledge (2012)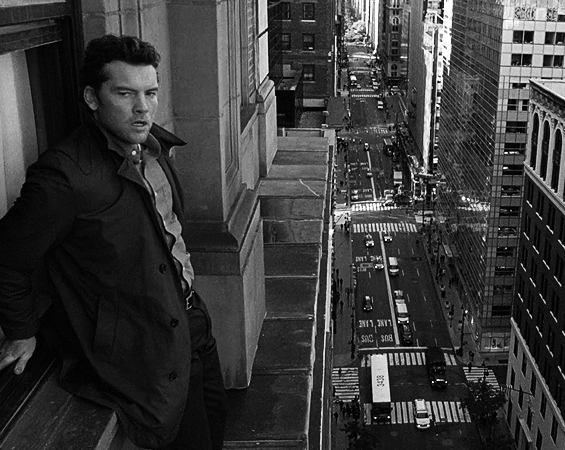 Man on a Ledge follows the travails of Sam Worthington's character, Nick Cassidy, a former New York City police officer who must clear his name after being unjustly convicted of stealing a very large diamond. To draw attention to his plight and away from the diamond heist occurring across the street, Cassidy threatens to jump from the roof of a Manhattan hotel.
Actor Sam Worthington spent three weeks at the Roosevelt Hotel standing on a 14-inch ledge that was 22 stories off the ground, which was over 200 feet above Madison Avenue. He wore a harness that was attached to a pulley, so there was no chance of him falling even when he slipped or the wind blew too strong, but that didn't stop New Yorkers from encouraging him to jump.
Locations: Man on a Ledge
The Wolf of Wall Street (2013)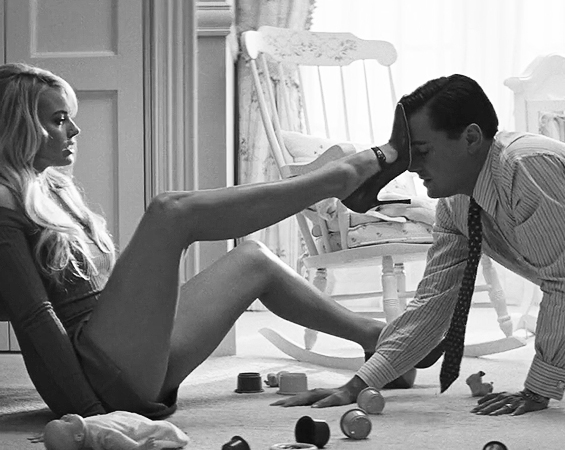 The Wolf of Wall Street is a brilliant black comedy film starring Leonardo DiCaprio as the ruthless New York stockbroker, Jordan Belfort. Directed by the legendary Martin Scorsese, the film has so many classic moments helped along by the talented acting skills of Jonah Hill, Rob Reiner and Matthew McConaugkey, but our chosen one features virtually-unknown-actress Margot Robbie. Previously seen in the US television show, PamAm alongside Christina Ricci and briefly in the romantic comedy "About Time", Margot plays the role of the Leonardo DiCapro's long-suffering second wife, Naomi Lapaglia. In this scene, she able to achieve the upper-hand on her cheating husband and whilst sitting in the nursery threatens to only allow him to look and not touch her anymore. Naomi's sex appear is her power over Jordan and her form of currency in a world of millionaires. The only way of creating a better life for herself and getting what she wants is the fact that she's aware of this sexual power she has over men, and especially over Jordan.
Locations: The Wolf of Wall Street
The Other Woman (2014)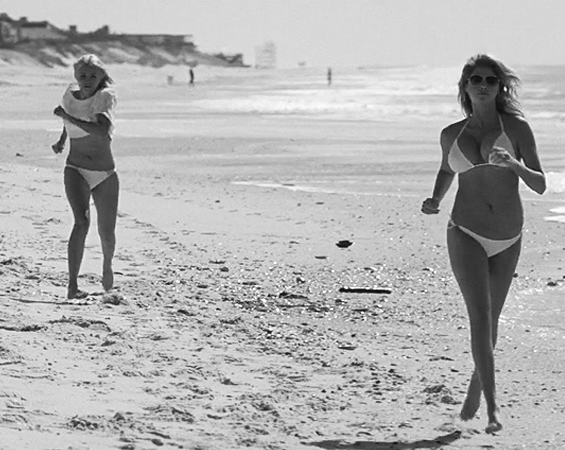 When Kate played by Leslie Mann discovers that her husband is still seeing someone on the side, she initially believes that it is Carly, played by Cameron Diaz, but she and Carly eventually discover that Mark is seeing a third woman, a beautiful young woman named Amber played by Sports Illustrated model Kate Upton. The most-talked-about scene from The Other Woman is when Carly and Kate travel to the beach and chase after a white bikini-clad Amber.
The SI model's moment in the sun is an obvious homage to Bo Derek's breakout splashy romp in the classic 1979 comedy, "10," in which a young Derek similarly plays the nubile object of an older man's desire. According to critics, the bikini jogging scene is pure leer-bait material. Unlike Derek, however, Upton only has a few lines and is the third wheel behind Mann and Diaz, who of course, successfully made the transition from model to actress since her big break in 1994's "The Mask."
When it comes to models-turned-actresses, the success rate is a mixed bag. Brooklyn Decker made the leap with small roles in comedies like "Just Go With It" and "What to Expect When You're Expecting." Gisele Bündchen appeared in "Taxi" and "The Devil Wears Prada", Rosie Huntington-Whiteley appeared in "Transformers: Dark of the Moon", and Cindy Crawford starred opposite William Baldwin in the 1995 action film "Fair Game." At the other end of the spectrum, there is Ukranian-French model Olga Kurylenko, who has moved to starring roles in "Hitman", "Max Payne", "Quantum of Solace" and "Oblivion" with Tom Cruise.
Locations: The Other Woman
Teenage Mutant Ninja Turtles: Out of the Shadows (2016)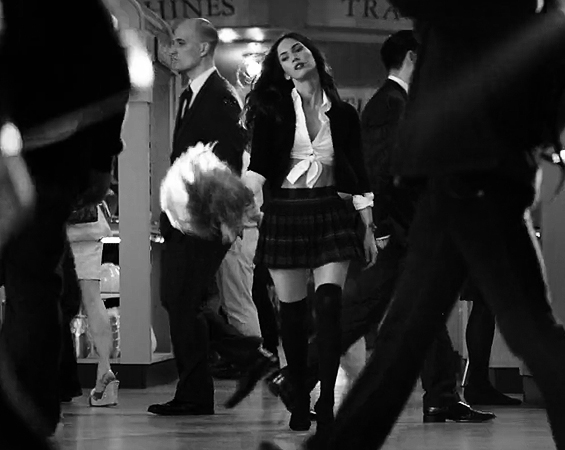 In 2016, Megan Fox reprised her role as roving Channel 5 News reporter April O'Neil in the Teenage Mutant Ninja Turtles sequel, which saw the Turtles continue to live in the shadows with no one knowing they were the ones who had taken down the evil Shredder in the first film.
In this scene, Megan Fox goes undercover and seamlessly switches from a 'day at the office' shoulder-length blonde to a Britney Spears wannabe wearing school uniform and opaque black knee-stockings brunette as she struts her way in slow motion across the concourse of New York City's Grand Central Terminal.
Locations: Teenage Mutant Ninja Turtles: Out of the Shadows
Joker (2019)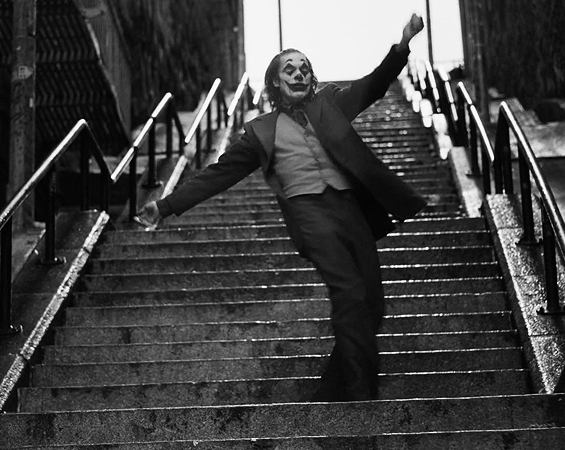 Psychological thriller Joker was directed by Todd Phillips, and starred Joaquin Phoenix as the Joker. An origin story set in 1981, the film follows Arthur Fleck, a failed stand-up comedian who turns to a life of crime and chaos in Gotham City.
In this scene, also used as the promotional poster for the film, Joaquin Phoenix introduces himself as the all dancing, all laughing Joker with his iconic face make-up and purple suit, he is seen walking down the tall flight of steps, occasionally pausing to gracefully dance. The steps, which join Shakespeare and Anderson Avenues and run along West 167 Street will now forever be referred to the "Joker Steps".
Locations: Joker
Quick Links
Chart Listings
Disclaimer
All images that appear on the site are copyrighted to their respective owners and otsoNY.com claims no credit for them unless otherwise noted. If you own the rights to any of the images and do not wish them to appear on the site please contact us, and they will be promptly removed.