| | |
| --- | --- |
| The Seven Year Itch (1955) | Last Updated: Aug 2023 |
| | | |
| --- | --- | --- |
| | | In summertime in Manhattan, the plain and average Richard Sherman (Tom Ewell) sends his wife and son for vacation in the country. Sherman is the key man of a publishing firm, Brady & Company, which publishes cheap pocket books. The faithful Sherman has a routine life with his family and never steps outside of his standing desk or beyond the office door, but dreams on being successful with women. When a beautiful and sexy blonde (Marilyn Monroe) lodges the upstairs apartment of his small building, Sherman first opens the front door for her and then he invites her to have a drink with him after the fall of her tomato vase on his chair. Along the days, he spends some time with the girl and feels tempted by her, but later he misses his family and travels to meet them. |




| | |
| --- | --- |
| | Pennsylvania Station, 7th Avenue and West 31st Street, Manhattan. |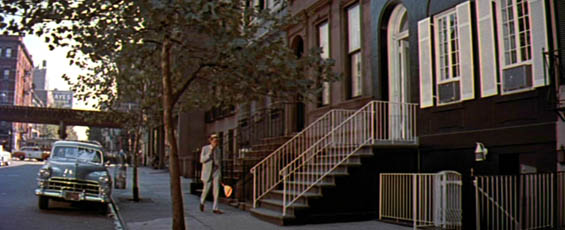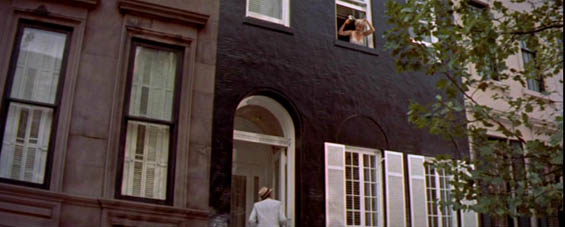 | | |
| --- | --- |
| | Richard's Apartment, 164 East 61st Street and Lexington Avenue, Manhattan. |

otsoNY Comments: Billy Wilder preferred shooting in black and white, but Marilyn Monroe's contract with Fox called for all of her movies to be shot in colour. Monroe always thought that she looked far more attractive and glamorous in colour than in black and white.

otsoNY Comments: Adapted from the Broadway play by George Axelrod starring Tom Ewell and Vanessa Brown. When the project moved from Paramount to 20th Century-Fox, Brown was replaced by Marilyn Monroe. Due to the Hays Code, not only was most of the racy dialogue omitted, over the objections of Axelrod and Billy Wilder, Sherman's romance with The Girl became a product of his imagination.

otsoNY Comments: The New York movie theater that's supposedly showing Creature from the Black Lagoon (1954) was really showing the Leslie Caron movie Lili (1953) at the time; the side of the theater visible to viewers had the "Creature" title on the marquee (along with a standee of monster and maiden on top of it), but the front of the theater marque (not visible) was still listing "Lili". A photo of the theater with all "conflicting" marquees visible was tacked up in the Fox photo department for decades.


otsoNY Comments: The classic shot of Marilyn Monroe's dress blowing up around her legs as she stands over a subway grating was originally shot on Manhattan's Lexington Avenue at 52nd Street on Sept. 15, 1954 at 1 AM. There were so many onlookers whistling and cheering through the takes as Marilyn repeatedly missed her lines that the original footage shot on that night in New York never made it to the screen. The noise of the crowd had made it unusable. Billy Wilder re-staged the scene on the 20th Century Fox lot, on a set replicating Lexington Avenue, and got a more satisfactory result.

| | |
| --- | --- |
| | Lexington Avenue and East 52nd Street, Manhattan. |


| | |
| --- | --- |
| | East 57th Street (btw Madison Avenue & Park Avenue) Manhattan. |
Quick Links
Chart Listings
Disclaimer
All images that appear on the site are copyrighted to their respective owners and otsoNY.com claims no credit for them unless otherwise noted. If you own the rights to any of the images and do not wish them to appear on the site please contact us, and they will be promptly removed.