Top 50 Most Romantic NYC Films
This list was compiled in February 2017 on the basis that the films were popular in the era of release as well as successful at the Box Office and have lasted the test of time.
50. Laws of Attraction (2004)

Amidst a sea of litigation, two New York City divorce lawyers find love.

Director: Peter Howitt
Stars: Pierce Brosnan, Julianne Moore and Parker Posey
Link: Film Locations
49. The Proposal (2009)

A pushy boss forces her young assistant to marry her in order to keep her visa status in the U.S. and avoid deportation to Canada.

Director: Anne Fletcher
Stars: Sandra Bullock, Ryan Reynolds and Mary Steenburgen
Link: Film Locations
48. Falling in Love (1984)

During shopping for Christmas, Frank and Molly run into each other. This fleeting short moment will start to change their lives, when they recognize each other months later in the train home and have a good time together.

Director: Ulu Grosbard
Stars: Robert De Niro, Meryl Streep and Harvey Keitel
Link: Film Locations
47. Love Story (1970)

A boy and a girl from different backgrounds fall in love regardless of their upbringing - and then tragedy strikes.

Director: Arthur Hiller
Stars: Ali MacGraw, Ryan O'Neal and John Marley
Link: Film Locations
46. Autumn in New York (2000)

Romantic drama about an aging playboy who falls for a sweet, but terminally ill, young woman.

Director: Joan Chen
Stars: Richard Gere, Winona Ryder and Anthony LaPaglia |
Link: Film Locations
45. Made of Honor (2008)

A guy in love with an engaged woman tries to win her over after she asks him to be her maid of honor.

Director: Paul Weiland
Stars: Patrick Dempsey, Michelle Monaghan and Kevin McKidd
Link: Film Locations
44. Definitely Maybe (2008)

A political consultant tries to explain his impending divorce and past relationships to his 11-year-old daughter.

Director: Adam Brooks
Stars: Ryan Reynolds, Rachel Weisz and Abigail Breslin
Link: Film Locations
43. Working Girl (1988)

When a secretary's idea is stolen by her boss, she seizes an opportunity to steal it back by pretending she has her boss's job.

Director: Mike Nichols
Stars: Melanie Griffith, Harrison Ford and Sigourney Weaver
Link: Film Locations
42. Just My Luck (1990)

Manhattanite Ashley is known to many as the luckiest woman around. After a chance encounter with a down-and-out young man, however, she realizes that she's swapped her fortune for his.

Director: Donald Petrie
Stars: Lindsay Lohan, Chris Pine and Samaire Armstrong
Link: Film Locations
41. Green Card (1990)

A man wanting to stay in the US enters into a marriage of convenience, but it turns into more than that.

Director: Peter Weir
Stars: Gérard Depardieu, Andie MacDowell and Bebe Neuwirth
Link: Film Locations
40. Frankie & Johnny (1991)

Johnny has just been released from prison, and gets a job in a cafe beside waitress Frankie. Frankie is a bit of a loner, but Johnny is determined their romance will blossom.

Director: Garry Marshall
Stars: Al Pacino, Michelle Pfeiffer and Hector Elizondo
Link: Film Locations
39. Endless Love (1981)

A high school student's love for a 15-year-old girl is thwarted by parental disapproval, circumstance and accident.

Director: Franco Zeffirelli
Stars: Brooke Shields, Martin Hewitt and Shirley Knight
Link: Film Locations
38. Enchanted (2007)

A princess, who is prepared to be wed, is sent away to New York by an evil queen, where she falls in love with a lawyer.

Director: Kevin Lima
Stars: Amy Adams, Susan Sarandon and James Marsden
Link: Film Locations
37. Picture Perfect (1997)

A young advertising executive's life becomes increasingly complicated when, in order to impress her boss, she pretends to be engaged to a man she has just met.

Director: Glenn Gordon Caron
Stars: Jennifer Aniston, Jay Mohr and Kevin Bacon
Link: Film Locations
36. Blue Valentine (2010)

The relationship of a contemporary married couple, charting their evolution over a span of years by cross-cutting between time periods.

Director: Derek Cianfrance
Stars: Ryan Gosling, Michelle Williams and John Doman
Link: Film Locations
35. An Affair to Remember (1957)

A couple falls in love and agrees to meet in six months at the Empire State Building - but will it happen?

Director: Leo McCarey
Stars: Cary Grant, Deborah Kerr and Richard Denning
Link: Film Locations
34. Two Weeks Notice (1990)

A lawyer decides that she's used too much like a nanny by her boss, so she walks out on him.

Director: Marc Lawrence
Stars: Sandra Bullock, Hugh Grant and Alicia Witt
Link: Film Locations
33. Sweet Home Alabama (2002)

A young woman who's reinvented herself as a New York socialite must return home to Alabama to obtain a divorce from her husband, after seven years of separation.

Director: Andy Tennant
Stars: Reese Witherspoon, Patrick Dempsey and Josh Lucas
Link: Film Locations
32. P.S. I Love You (2005)

A young widow discovers that her late husband has left her 10 messages intended to help ease her pain and start a new life.

Director: Richard LaGravenese
Stars: Hilary Swank, Gerard Butler and Harry Connick Jr.
Link: Film Locations
31. Hitch (2005)

While helping his latest client woo the fine lady of his dreams, a professional "date doctor" finds that his game doesn't quite work on the gossip columnist with whom he's smitten.

Director: Andy Tennant
Stars: Will Smith, Eva Mendes and Kevin James
Link: Film Locations
30. Friends With Benefits (2011)

A young man and woman decide to take their friendship to the next level without becoming a couple, but soon discover that adding sex only leads to complications..

Director: Will Gluck
Stars: Mila Kunis, Justin Timberlake and Patricia Clarkson
Link: Film Locations
29. Annie Hall (1977)

Neurotic New York comedian Alvy Singer falls in love with the ditzy Annie Hall.

Director: Woody Allen
Stars: Woody Allen, Diane Keaton and Tony Roberts
Link: Film Locations
28. What Happens in Vegas (2008)

A man and a woman are compelled, for legal reasons, to live life as a couple for a limited period of time. At stake is a large amount of money.

Director: Tom Vaughan
Stars: Cameron Diaz, Ashton Kutcher and Rob Corddry
Link: Film Locations
27. Simply Irresistable (1999)

A magical crab works wonders for a terrible chef's culinary skills, leading her towards the man of her dreams.

Director: Mark Tarlov
Stars: Sarah Michelle Gellar and Sean Patrick Flanery
Link: Film Locations
26. My Sassy Girl (2008)

A sweet Midwestern guy with his life planned out for himself is wooed, groomed, and ultimately dumped by a complicated, elusive gal.

Director: Yann Samuell
Stars: Elisha Cuthbert, Jesse Bradford and Austin Basis
Link: Film Locations
25. Music and Lyrics (2007)

A washed up singer is given a couple days to compose a chart-topping hit for an aspiring teen sensation. Though he's never written a decent lyric in his life, he sparks with an offbeat younger woman with a flair for words.

Director: Marc Lawrence
Stars: Hugh Grant, Drew Barrymore and Scott Porter
Link: Film Locations
24. Maid in Manhattan (2002)

A senatorial candidate falls for a hotel maid, thinking she is a socialite when he sees her trying on a wealthy woman's dress.

Director: Wayne Wang
Stars: Jennifer Lopez, Ralph Fiennes and Natasha Richardson
Link: Film Locations
23. It Could Happen to You (1994)

A police officer promises to share his lottery ticket with a waitress in lieu of a tip.

Director: Andrew Bergman
Stars: Nicolas Cage, Bridget Fonda and Rosie Perez
Link: Film Locations
22. For Love or Money (1993)

Doug is a young man who works all day as a concierge at a luxurious hotel, saving money to make his own business.

Director: Barry Sonnenfeld
Stars: Michael J. Fox, Gabrielle Anwar and Anthony Higgins
Link: Film Locations
21. Breakfast at Tiffany's (1961)

A young New York socialite becomes interested in a young man who has moved into her apartment building.

Director: Blake Edwards
Stars: Audrey Hepburn, George Peppard and Patricia Neal
Link: Film Locations
20. 13 Going on 30 (1984)

A girl makes a wish on her 13th birthday and wakes up the next day as a 30-year-old woman.

Director: Gary Winick
Stars: Jennifer Garner, Mark Ruffalo and Judy Greer
Link: Film Locations
19. The Terminal (2004)

An eastern immigrant finds himself stranded in JFK airport, and must take up temporary residence there.

Director: Steven Spielberg
Stars: Tom Hanks, Catherine Zeta-Jones and Chi McBride
Link: Film Locations
18. Splash (1984)

A man is reunited with a mermaid who saves him from drowning as a boy and falls in love not knowing who/what she is.

Director: Ron Howard
Stars: Tom Hanks, Daryl Hannah and Eugene Levy
Link: Film Locations
17. Moonstruck (1987)

Loretta Castorini, a book keeper from Brooklyn, New York, finds herself in a difficult situation when she falls for the brother of the man she agreed to marry.

Director: Norman Jewison
Stars: Cher, Nicolas Cage and Olympia Dukakis
Link: Film Locations
16. Manhattan (1979)

A divorced New Yorker currently dating a high-schooler brings himself to look for love in the mistress of his best friend instead.

Director: Woody Allen
Stars: Woody Allen, Diane Keaton and Mariel Hemingway
Link: Film Locations
15. Alfie (2004)

A cockney womanizer learns the hard way about the dangers of his actions.

Director: Charles Shyer
Stars: Jude Law, Sienna Miller and Susan Sarandon
Link: Film Locations
14. West Side Story (1961)

Musical about two youngsters from rival NYC gangs who fall in love.

Director: Jerome Robbins, Robert Wise
Stars: Natalie Wood, George Chakiris and Richard Beymer
Link: Film Locations
13. No Reservations (2007)

The life of a top chef changes when she becomes the guardian of her young niece.

Director: Scott Hicks
Stars: Catherine Zeta-Jones, Aaron Eckhart and Abigail Breslin
Link: Film Locations
12. 5 to 7 (2014)

An aspiring novelist enters into a relationship with a woman, though there's just one catch: She's married, and the couple can only meet between the hours of 5 and 7 each evening.

Director: Victor Levin
Stars: Anton Yelchin, Bérénice Marlohe and Olivia Thirlby
Link: Film Locations
11. The Seven Year Itch (1955)

When his family goes away for the summer, a so far faithful husband is tempted by a beautiful neighbour.

Director: Billy Wilder
Stars: Marilyn Monroe, Tom Ewell and Evelyn Keyes
Link: Film Locations
10. The Rebound (2009)

In New York City, a single mom captivates her new neighbor, a much younger man.

Director: Bart Freundlich
Stars: Catherine Zeta-Jones, Justin Bartha and Andrew Cherry
Link: Film Locations
9. The Prince of Tides (1991)

A troubled man talks to his suicidal sister's psychiatrist about their family history and falls in love with her in the process.

Director: Barbra Streisand
Stars: Barbra Streisand, Nick Nolte and Blythe Danner
Link: Film Locations
8. One Fine Day (1996)

Two working parents trying to manage their day in New York City after their children miss out on a school trip.

Director: Michael Hoffman
Stars: Michelle Pfeiffer, George Clooney and Mae Whitman
Link: Film Locations
7. You've Got Mail (1988)

Two business rivals who despise each other in real life unwittingly fall in love over the Internet.

Director: Nora Ephron
Stars: Tom Hanks, Meg Ryan and Greg Kinnear
Link: Film Locations
6. The Family Man (2000)

A fast-lane investment broker, offered the opportunity to see how the other half lives, wakes up to find that his sports car and girlfriend have become a mini-van and wife.

Director: Brett Ratner
Stars: Nicolas Cage, Téa Leoni and Don Cheadle
Link: Film Locations
5. Sleepless in Seattle (1993)

A recently-widowed man's son calls a radio talk show in an attempt to find his father a partner.

Director: Nora Ephron
Stars: Tom Hanks, Meg Ryan and Ross Malinger
Link: Film Locations
4. Serendipity (2001)

A couple reunite years after the night they first met, fell in love, and separated, convinced that one day they'd end up together.

Director: Peter Chelsom
Stars: John Cusack, Kate Beckinsale and Jeremy Piven
Link: Film Locations
3. Kate and Leopold (2001)

An English Duke from 1876 is inadvertedly dragged to modern day New York where he falls for a plucky advertising executive.

Director: James Mangold
Stars: Meg Ryan, Hugh Jackman and Liev Schreiber
Link: Film Locations
2. When Harry Met Sally (1989)

Harry and Sally have known each other for years, and are very good friends, but they fear sex would ruin the friendship.

Director: Rob Reiner
Stars: Billy Crystal, Meg Ryan and Carrie Fisher
Link: Film Locations
1. Ghost (1990)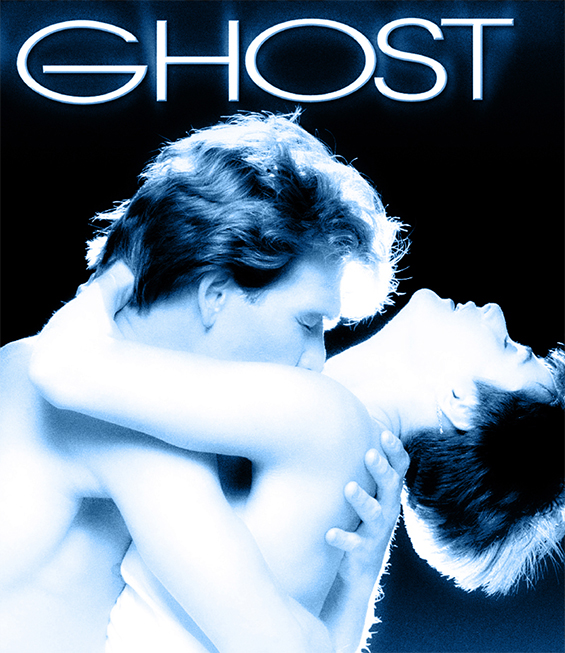 Sam Wheat is a banker, Molly Jensen is an artist, and the two are madly in love. However, when Sam is murdered by friend and corrupt business partner Carl Bruner over a shady business deal, he is left to roam the earth as a powerless spirit. When he learns of Carl's betrayal, Sam must seek the help of psychic Oda Mae Brown to set things right and protect Molly from Carl and his goons.



Director: Jerry Zucker
Stars: Patrick Swayze, Demi Moore and Whoopi Goldberg

Ghost became the highest-grossing film of 1990, and was nominated for five Academy Awards, including Best Picture, Best Score and Best Film Editing. It won the awards for Best Supporting Actress for Goldberg and Best Original Screenplay. Swayze and Moore both received Golden Globe Award nominations for their performances, while Goldberg won the BAFTA, Golden Globe, and Saturn Awards in addition to the Oscar.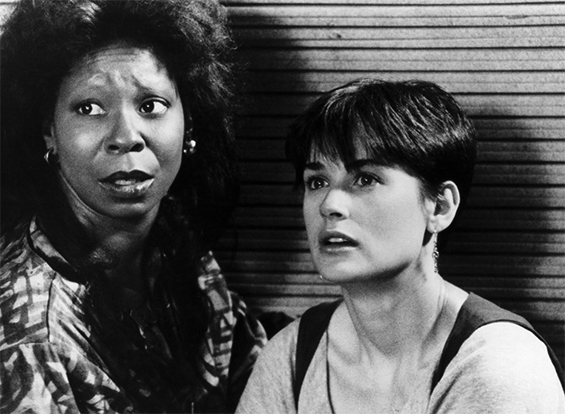 The role of Oda Mae Brown was not written with Whoopi Goldberg in mind, but Patrick Swayze, an admirer of hers, convinced the producers that she would be right for the part. Whilst the role of Molly Jensen was given to Demi Moore largely in part because Moore could cry out of either eye on cue, though other actresses such as Kim Basinger, Geena Davis, Helen Hunt, Nicole Kidman, Andie MacDowell, Michelle Pfeiffer, Kathleen Turner and Debra Winger, were all considered. Upon winning the role, Demi Moore wanted the pottery scene to look authentic, so she took actual pottery lessons. The film turned Demi Moore into the highest paid actress in Hollywood at the time. Prior to this film, while she was a well-known actress, she wasn't a bankable star.
Link:
Film Locations
Send us your comments:
editor@onthesetofnewyork.com
Quick Links
Chart Listings
Disclaimer
All images that appear on the site are copyrighted to their respective owners and otsoNY.com claims no credit for them unless otherwise noted. If you own the rights to any of the images and do not wish them to appear on the site please contact us, and they will be promptly removed.