Most Popular Film Locations: Manhattan Bridge
The Manhattan Bridge is a suspension bridge that crosses the East River in New York City, connecting Lower Manhattan at Canal Street with Brooklyn at Flatbush Avenue Extension. It was the last of the three suspension bridges built across the lower East River, following the Brooklyn and the Williamsburg bridges. The bridge was opened to traffic on December 31, 1909 and was designed by Leon Moisseiff, who later designed the infamous original Tacoma Narrows Bridge that opened and collapsed in 1940. It has four vehicle lanes on the upper level split between two roadways. The lower level has three lanes, four subway tracks, a walkway and a bikeway. The upper level, originally used for streetcars, has two lanes in each direction, and the lower level is one-way and has three lanes in peak direction. It once carried New York State Route 27 and later was planned to carry Interstate 478. No tolls are charged for motor vehicles to use the Manhattan Bridge.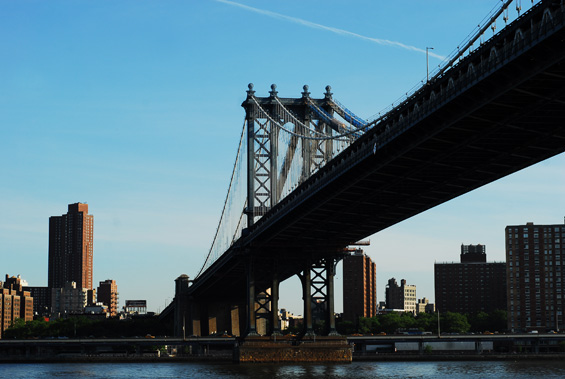 The original pedestrian walkway on the south side of the bridge was reopened after forty years in June 2001. It was also used by bicycles until late summer 2004, when a dedicated bicycle path was opened on the north side of the bridge, again in 2007 while the bike lane was used for truck access during repairs to the lower motor roadway, and for a third time in 2011, when ongoing construction on the north side of the bridge necessitated narrow shelters, narrowing the path to make it unsafe for cycling. The neighbourhood near the bridge on the Brooklyn side, once known as Fulton Landing has been gentrified and is called DUMBO, an acronym for Down Under the Manhattan Bridge Overpass.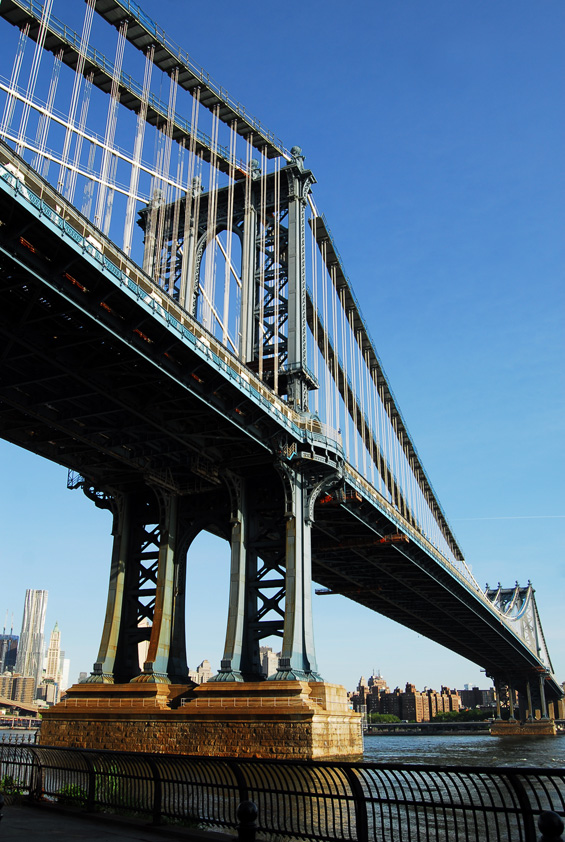 Films that feature the Manhattan Bridge include:
Link:
Most Popular Film Locations
Quick Links
Chart Listings
Disclaimer
All images that appear on the site are copyrighted to their respective owners and otsoNY.com claims no credit for them unless otherwise noted. If you own the rights to any of the images and do not wish them to appear on the site please contact us, and they will be promptly removed.