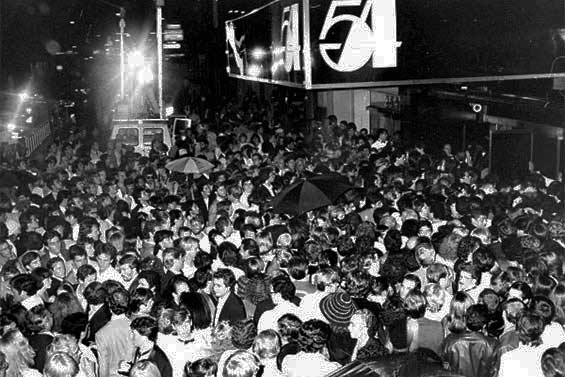 Studio 54 is now a New York City Broadway theatre but in 1977 it was a nightclub for the rich and famous.
Located at 254 West on 54th Street in Manhattan the nightclub was founded by four equal partners, Steven Rubell, Ian Schrager, Tim Savage and Jack Dushey, using a business cash advance. Before the April 26, 1977 opening, Carmen D'Alessio, a Valentino public relations agent sent out 5,000 invitations together with an enticing surprise gift to each of the invitees. Among the many celebrities present during opening night were Mick Jagger, Liza Minnelli, Jerry Hall, Diana Vreeland, Halston, Brooke Shields, Debbie Harry, Robin Leach, newlyweds Donald and Ivana Trump, newly engaged Rick Hilton and Kathy Richards, and many other well-known party-goers. Hordes scrambled to gain entry but only a few got past the door. Some celebrities, including Warren Beatty, Woody Allen, Diane Keaton, Henry Winkler, Cher, and Frank Sinatra were unable to get in, in part due to Studio 54's elusive doorman Marc Benecke.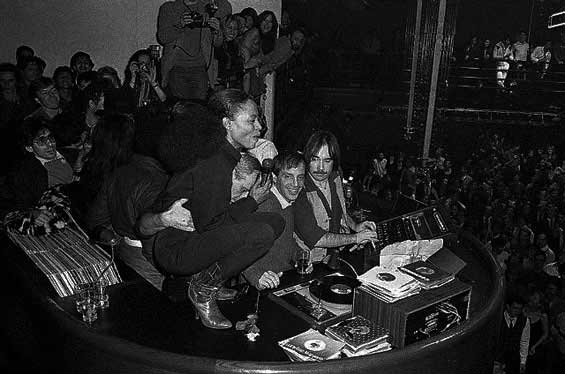 A week after the opening, Halston asked Rubell to open the nightclub on a Monday night for Bianca Jagger's 27th birthday party. Bianca entered on a white horse and the resulting publicity firmly established Studio 54 as the preferred nightclub for celebrities, including Michael Jackson, Rudolf Nureyev, Elton John, Truman Capote, Margaret Trudeau, John Travolta, Jackie Onassis, Elizabeth Taylor, Björn Borg, Gloria Swanson, Mae West, Farrah Fawcett, Lorna Luft, John Lennon and Yoko Ono, Divine, Rod Stewart, Alice Cooper, Suzanne Somers, Bette Davis, Al Pacino, Zsa Zsa and Eva Gabor, Bette Midler, Ann-Margret, Dolly Parton, Pelé, Hugh Hefner, Sophia Loren, Diane von Fürstenberg, John F. Kennedy Jr., Eartha Kitt, and Lillian Carter, then-president Jimmy Carter's mother.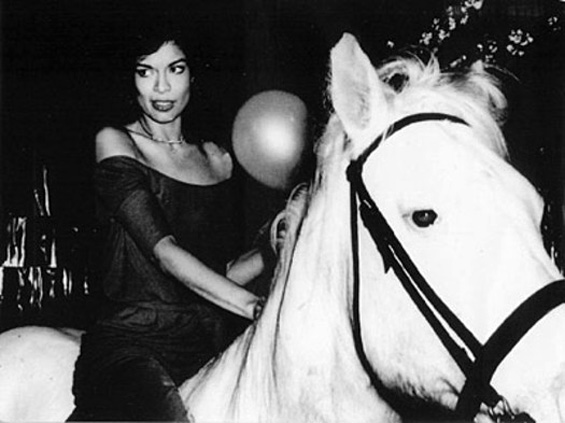 Some of the world's most famous performers also performed their new songs: Donna Summer, Dr. Buzzard's Original Savannah Band, Grace Jones, Gloria Gaynor, Sylvester, The Village People, Cheryl Lynn, Brooklyn Dreams, James Brown, Phylis Hyman, Amii Stewart, Chic, The Ritchie Family, Rick James, Stephanie Mills, Roberta Kelly, and Arthur Russell all sang their most famous songs during the partying.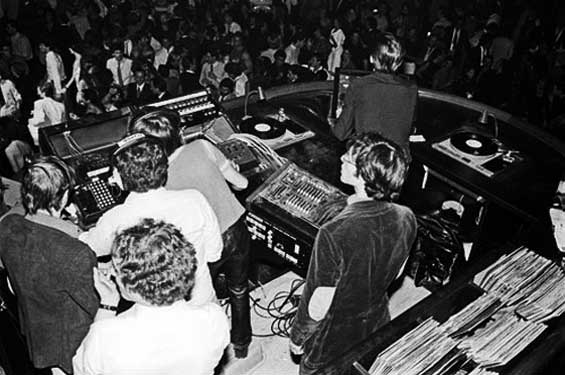 Studio 54 was operated by the flamboyant, publicly visible Steve Rubell and his retiring silent partner Schrager. At the nightclub's prime, Rubell became widely known for hand-selecting guests from the always huge crowds outside, mixing beautiful "nobodies" with glamorous celebrities in the same venue. The club was notorious for the hedonism that occurred within it; the balconies were known for sexual encounters, and drug use was rampant. Its dance floor was decorated with a depiction of a Man in the Moon that included an animated cocaine spoon.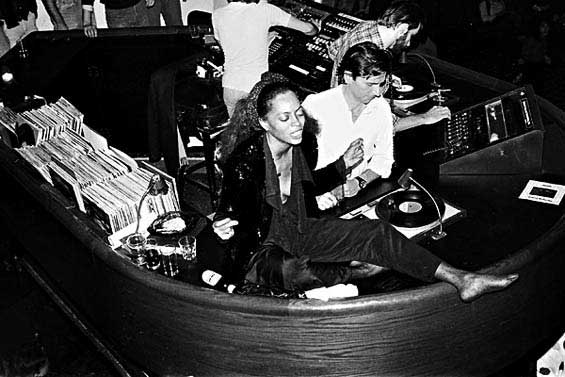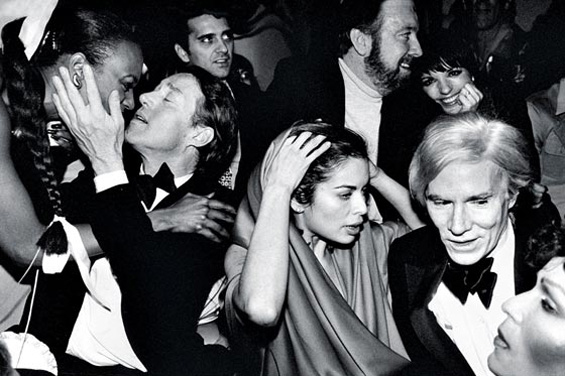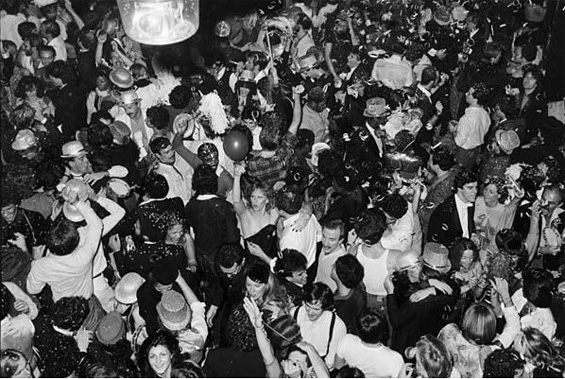 During December 1978, Rubell was quoted in the New York newspapers as saying the Studio had made $7 million in its first year and that "only the Mafia made more money." Shortly thereafter the nightclub was raided and Rubell and Schrager were arrested for skimming $2.5 million.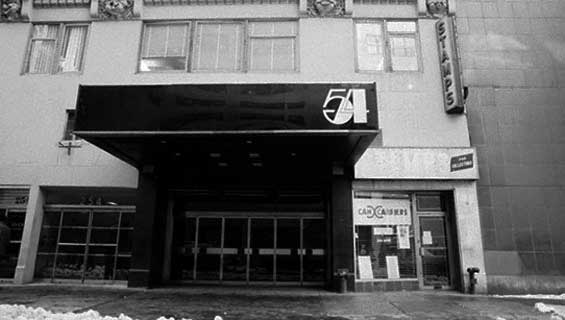 On February 4, 1980, the nightclub closed with one final party called "The End of Modern-day Gomorrah". Diana Ross, Ryan O'Neal, Mariel Hemingway, Jocelyne Wildenstein, Richard Gere, Gia Carangi, Jack Nicholson, Reggie Jackson, and Sylvester Stallone were among the guests that night. New York lawyer Gary Naftalis represented Schrager successfully in the ensuing tax-evasion prosecution. After the nightclub's closing, cocaine and money were found in its walls. Schrager and Rubell were found guilty and would spend 13 months in prison.
Studio 54 is now owned by the Aroundabout Theatre Company.
Still located at 254 West on 54th Street in Manhattan the theatre has seen many Hollywood stars grace the floor boards.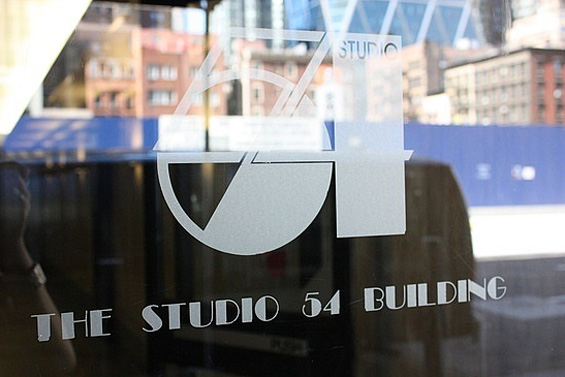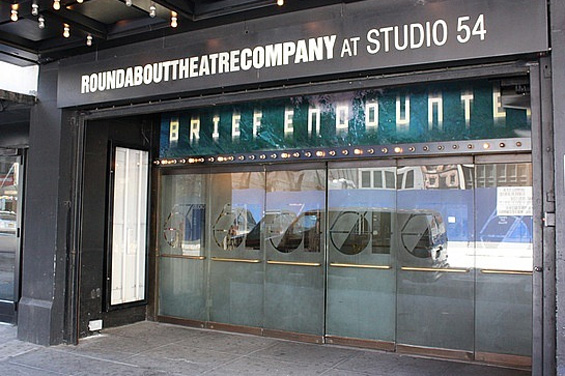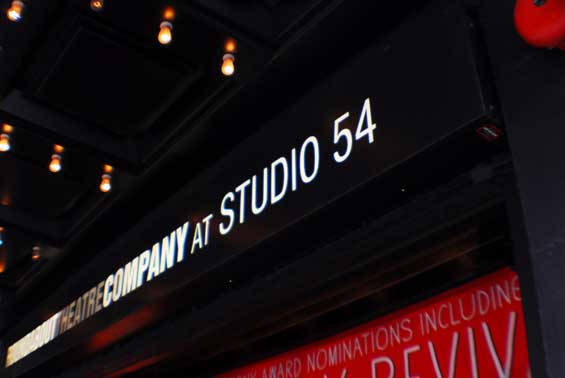 During 1994 Allied Partners bought the building for $5.5 million. They restored much of the architectural detail that had been painted black or covered with plywood by Schrager and Rubell. The nightclub reopened with a live concert by disco stars Gloria Gaynor, Vicki Sue Robinson and Sister Sledge. The building again went into bankruptcy in 1996 and Allied announced plans to demolish it and replace it with Cyberdrome, a virtual reality gaming venue; however the project was never completed.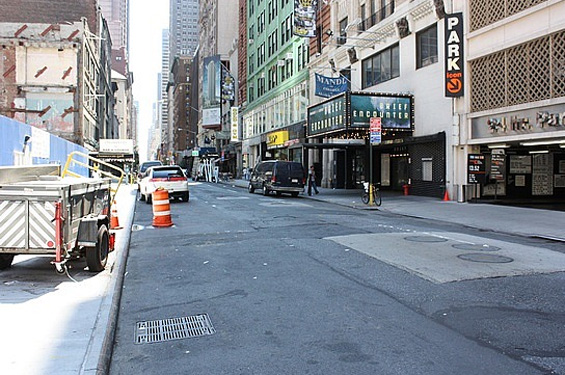 During 1998, the collapse of a construction hoist blocked access to the Henry Miller Theatre on 43rd Street, where the successful revival of the Broadway musical Cabaret was playing. To keep the show accessible, the Roundabout Theater Company agreed to move the performance to Studio 54. Roundabout later bought the building in 2003 from Allied for $22.5 million, and Cabaret played until 2004.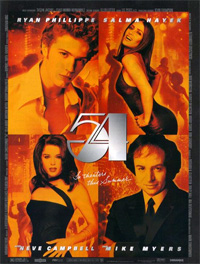 In 1998, 54 (also known as Studio 54) an American drama film directed and written by Mark Christopher, starring Ryan Phillippe, Salma Hayek and Neve Campbell was released. It also stars Mike Myers as Steve Rubell, the co-founder of Studio 54.
Based on two short films he had made, Mark Christopher persuaded Miramax Films to back a film about Studio 54. He had spent five years researching the club and the time period, as well as working on a screenplay. Miramax purchased a partial screenplay in 1995 and developed the script with the filmmaker for over a year. Christopher shot the film in Toronto over two months in the fall of 1997. During the production, a Miramax executive was often found on the set and studio head Harvey Weinstein flew up from New York to give his approval.
Expectations were high with the hopes that the film would become a big summer hit. Christopher finished his cut of the film and the studio scheduled the film's release for July of the following year. After initial positive reaction within the company, early test screenings in the Long Island suburbs for the two-hour cut of the film were disappointing to the studio. Audiences found the characters unlikable and reacted negatively to the kiss btw Shane and Greg. They also did not respond well to the happy ending for both of them and Anita. Christopher said via his publicist, "Our goal was to keep the audience sympathetic to the characters, [and] any material that was removed from the film was removed because it was too challenging for some members of the audience." Miramax requested cuts be made and Christopher initially refused.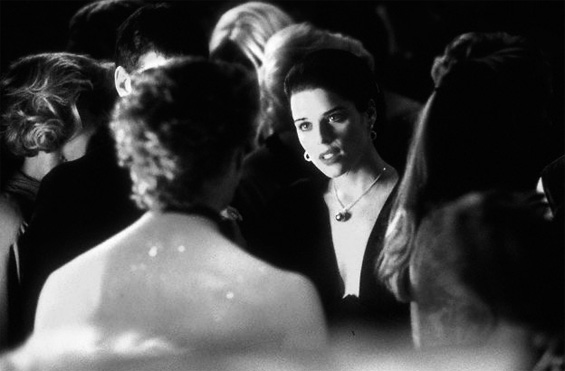 The studio forced Christopher to reshoot parts of his movie with only two months until its theatrical release, destroying the love triangle subplot btw the three characters. Much of the cast was called back for two weeks of additional filming in New York without being told what they would be shooting. Meyer, for example, found out that his substantial part in the film had been cut down to a stereotypical best-friend role and a new scene was shot that portrayed his character as a thief. The kiss btw Greg and Shane was replaced with a conversation. Ultimately, 45 minutes of the original film were deleted and replaced with 25 minutes of new scenes and voice-over.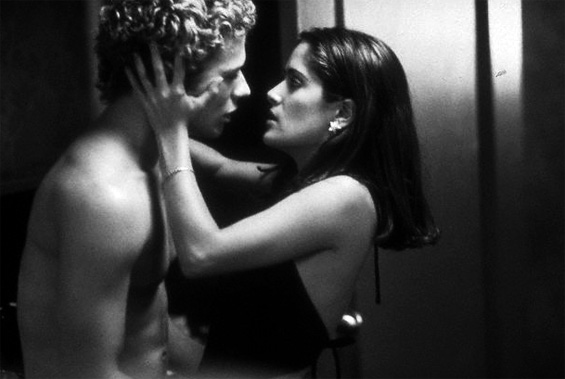 Christopher initially complained to friends and colleagues about what the studio was doing to his movie but under pressure at the film's release, he took a more politically advantageous stance. "We were both trying to make the best movie possible, and I think we've done that," he said at the time. View the 54 Film Locations
Studio 54 Radio
On August 15, 2011, Sirius XM Radio launched a 24/7 Disco channel based around the Studio 54 theme, billed as Studio 54 Radio, broadcasting of Sirius XM 15. The channel, which replaced the previous Disco channel "The Strobe," features pure disco and dance classics, along with interviews and tesimonials from the club's actual DJs and employees.
One Night Only
On October 18, 2011, Sirius XM Radio held a special "One Night Only" party at the club's original location to promote the new channel. In order to win tickets, contestants had to call in to the station and share their memorable Studio 54 experiences. 100 guests were also allowed to enter from the street.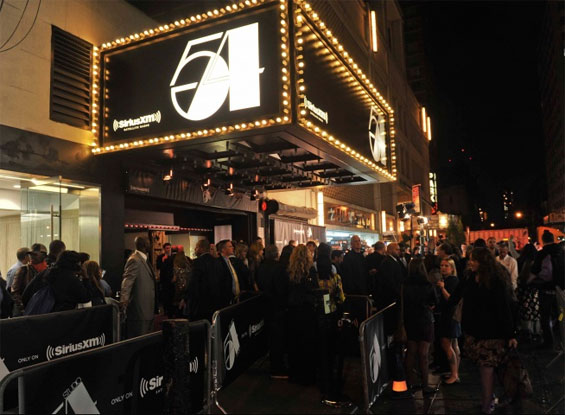 The club was decorated with both original and replica props to fully recreate the appearance of the club in its heyday. For the night, it featured the signature sun and "man on the moon" props as well as young, shirtless waiters (a "trademark" of Studio 54).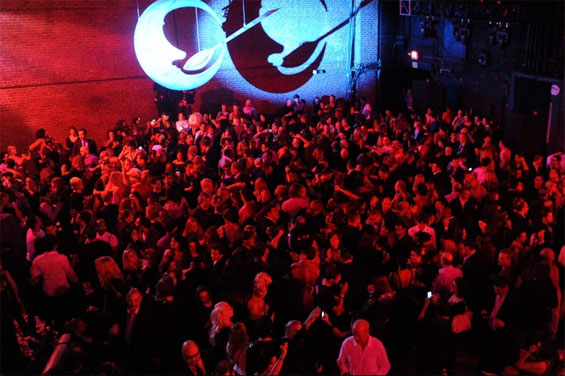 The event featured many of the original staff members including Steve Rubell's former personal assistant, a former doorman and o riginal DJs such as John Benitez. Guest DJ Avicii also performed later in the night. The live DJ sets were broadcast on the Sirius XM channel. Many celebrities such as Martha Stewart, Kevin Bacon, Cameron Diaz, Betsey Johnson, Keith Richards, Donald Trump and Andy Cohen (television personality) were spotted in the crowd.
Quick Links
Chart Listings
Disclaimer
All images that appear on the site are copyrighted to their respective owners and otsoNY.com claims no credit for them unless otherwise noted. If you own the rights to any of the images and do not wish them to appear on the site please contact us, and they will be promptly removed.