Most Popular Film Locations: Seagram Building
The Seagram Building is a skyscraper, located at 375 Park Avenue, between 52nd Street and 53rd Street in Midtown Manhattan, New York City. The structure was designed by German architect Ludwig Mies van der Rohe while the lobby and other internal aspects were designed by Philip Johnson including The Four Seasons and Brasserie restaurants. The building stands 515 feet tall with 38 stories, and was completed in 1958. It stands as one of the finest examples of the functionalist aesthetic and a masterpiece of corporate modernism. It was designed as the headquarters for the Canadian distillers Joseph E. Seagram's & Sons with the active interest of Phyllis Lambert, the daughter of Samuel Bronfman, Seagram's CEO.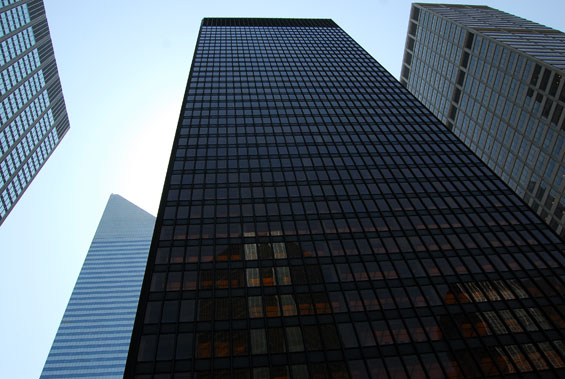 This structure, and the International style in which it was built, had enormous influences on American architecture. One of the style's characteristic traits was to express or articulate the structure of buildings externally. It was a style that argued that the functional utility of the building's structural elements when made visible, could supplant a formal decorative articulation; and more honestly converse with the public than any system of applied ornamentation. A building's structural elements should be visible, Mies thought. The Seagram Building, like virtually all large buildings of the time, was built of a steel frame, from which non-structural glass walls were hung. Mies would have preferred the steel frame to be visible to all; however, American building codes required that all structural steel be covered in a fireproof material, usually concrete, because improperly protected steel columns or beams may soften and fail in confined fires. Concrete hid the structure of the building, something Mies wanted to avoid at all costs, so Mies used non-structural bronze-toned I-beams to suggest structure instead. These are visible from the outside of the building, and run horizontally, like mullions, surrounding the large glass windows. This method of construction using an interior reinforced concrete shell to support a larger non-structural edifice has since become commonplace. As designed, the building used 1,500 tons of bronze in its construction.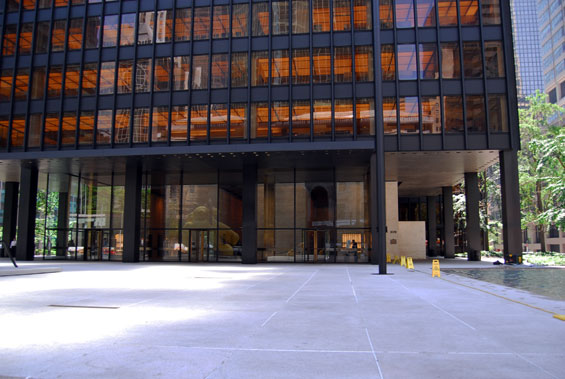 On completion, the construction costs of Seagram made it the world's most expensive skyscraper at the time, due to the use of expensive, high-quality materials and lavish interior decoration including bronze, travertine, and marble. The interior was designed to assure cohesion with the external features, repeated in the glass and bronze furnishings and decorative scheme.
Films that feature the Seagram Building include:
Link:
Most Popular Film Locations
Quick Links
Chart Listings
Disclaimer
All images that appear on the site are copyrighted to their respective owners and otsoNY.com claims no credit for them unless otherwise noted. If you own the rights to any of the images and do not wish them to appear on the site please contact us, and they will be promptly removed.