Most Popular Film Locations: Grand Central Terminal
Grand Central Terminal (GCT) is a commuter (and former intercity) railroad terminal at 42nd Street and Park Avenue in Midtown Manhattan in New York City, United States.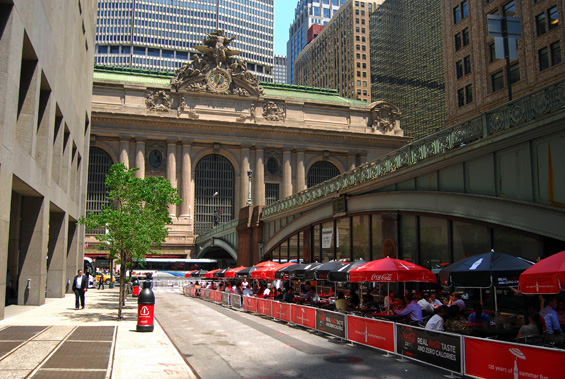 Built by and named for the New York Central Railroad in the heyday of American long-distance passenger rail travel, it is the largest such facility in the world by number of platforms with 44 serving 67 tracks along them. They are on two levels, both below ground, with 41 tracks on the upper level and 26 on the lower, though the total number of tracks along platforms and in rail yards exceeds 100. The terminal covers an area of 48 acres (19 ha). The terminal serves commuters travelling on the Metro-North Railroad to Westchester, Putnam, and Dutchess counties in New York State, and Fairfield and New Haven counties in Connecticut. Until 1991 the terminal served Amtrak, which moved to nearby Pennsylvania Station upon completion of the Empire Connection.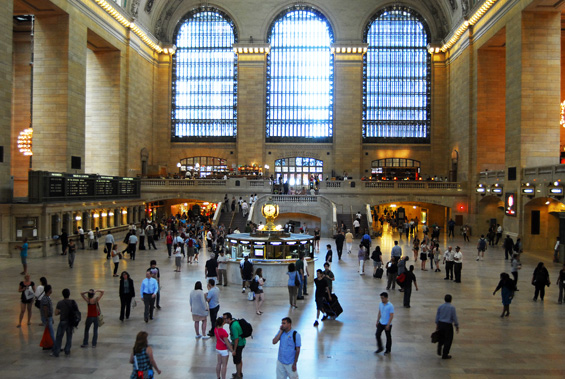 Although the terminal has been properly called "Grand Central Terminal" since 1913, many people continue to refer to it wrongly as "Grand Central Station," the name of the previous rail station on the same site, and of the U.S. Post Office station next door, which is not part of the terminal. It is also sometimes used to refer to the Grand Central – 42nd Street subway station, which serves the terminal. It has been described as "the world's loveliest station". According to the travel magazine Travel + Leisure in its October 2011 survey, Grand Central Terminal is "the world's number six most visited tourist attraction", bringing in approximately 21,600,000 visitors annually. The enduring appeal of the station is thought to be related to its monumental spaces and meticulously crafted detail.
Films that feature Grand Central Terminal include:
Link:
Most Popular Film Locations
Quick Links
Chart Listings
Disclaimer
All images that appear on the site are copyrighted to their respective owners and otsoNY.com claims no credit for them unless otherwise noted. If you own the rights to any of the images and do not wish them to appear on the site please contact us, and they will be promptly removed.