This list was compiled in August 2012 on the basis that the films were popular in the era of release as well as successful at the Box Office and have lasted the test of time.
50. Superman (1978)

An alien orphan is sent from his dying planet to Earth, where he grows up to become his adoptive home's first and greatest super-hero.

Director: Richard Donner
Stars: Christopher Reeve, Margot Kidder and Gene Hackman
Link: Film Locations
49. Three Days of the Condor (1975)

A bookish CIA researcher finds all his co-workers dead, and must outwit those responsible until he figures out who he can really trust.

Director: Sydney Pollack
Stars: Robert Redford, Faye Dunaway and Cliff Robertson
Link: Film Locations
48. Men in Black (1997)

A streetwise NYPD detective joins a secret organization that polices extraterrestrial affairs on Earth.

Director: Barry Sonnenfeld
Stars: Tommy Lee Jones, Will Smith and Linda Fiorentino
Link: Film Locations
47. Man on a Ledge (2012)

As a police psychologist works to talk down an ex-con who is threatening to jump from a Manhattan hotel rooftop, the biggest diamond heist ever committed is in motion.

Director: Asger Leth
Stars: Sam Worthington, Elizabeth Banks and Jamie Bell
Link: Film Locations
46. King Kong (1933)

In 1933 New York, an overly ambitious movie producer coerces his cast and hired ship crew to travel to mysterious Skull Island, where they encounter Kong, a giant ape who is immediately smitten with leading lady Ann Darrow.

Director: Merian C. Cooper
Stars: Fay Wray, Robert Armstrong and Bruce Cabot
Link: Film Locations
45. The Devil's Advocate (1997)

A hotshot lawyer gets more than he bargained for when he learns his new boss is Lucifer himself.

Director: Taylor Hackford
Stars: Keanu Reeves, Al Pacino and Charlize Theron
Link: Film Locations
44. Unfaithful (2002)

A New York suburban couple's marriage goes dangerously awry when the wife indulges in an adulterous fling.

Director: Adrian Lyne
Stars: Richard Gere, Diane Lane and Olivier Martinez
Link: Film Locations
43. Black Swan (2010)

A ballet dancer wins the lead in "Swan Lake" and is perfect for the role of the delicate White Swan - Princess Odette - but slowly loses her mind as she becomes more and more like Odile, the Black Swan.

Director: Darren Aronofsky
Stars: Natalie Portman, Mila Kunis and Vincent Cassel
Link: Film Locations
42. The Money Pit (1986)

A young couple struggles to repair a hopelessly dilapidated house.

Director: Richard Benjamin
Stars: Tom Hanks, Shelley Long and Alexander Godunov
Link: Film Locations
41. Sleepless in Seattle (1993)

A recently-widowed man's son calls a radio talk show in an attempt to find his father a partner.

Director: Nora Ephron
Stars: Tom Hanks, Meg Ryan and Ross Malinger
Link: Film Locations
40. Inside Man (2006)

A cop has to talk down a bank robber after the criminal's perfect heist spirals into a hostage situation.

Director: Spike Lee
Stars: Denzel Washington, Clive Owen and Jodie Foster
Link: Film Locations
39. Coyote Ugly (2000)

Aspiring songwriter Violet Sanford, after getting a job at a women-run NYC bar that teases its male patrons, comes out of her shell.

Director: David McNally
Stars: Piper Perabo, Adam Garcia and John Goodman
Link: Film Locations
38. Hitch (2005)

While helping his latest client woo the fine lady of his dreams, a professional "date doctor" finds that his game doesn't quite work on the gossip columnist with whom he's smitten.

Director: Andy Tennant
Stars: Will Smith, Eva Mendes and Kevin James
Link: Film Locations
37. Rosemary's Baby (1968)

A young couple move into a new apartment, only to be surrounded by peculiar neighbors and occurrences. When the wife becomes mysteriously pregnant, paranoia over the safety of her unborn child begins controlling her life.

Director: Roman Polanski
Stars: Mia Farrow, John Cassavetes and Ruth Gordon
Link: Film Locations
36. The Warriors (1979)

In a future, dystopian New York City, turf gangs and cops rule the streets. When one gang leader tries to bring all gangs together against the cops Coney Island's The Warriors are framed for his murder and the entire city turns on them.

Director: Walter Hill
Stars: Michael Beck, James Remar and Dorsey Wright
Link: Film Locations
35. Spider-Man (2002)

When bitten by a genetically modified spider, a nerdy, shy, and awkward high school student gains spider-like abilities that he eventually must use to fight evil as a superhero after tragedy befalls his family.

Director: Sam Raimi
Stars: Tobey Maguire, Kirsten Dunst and Willem Dafoe
Link: Film Locations
34. Serendipity (2001)

A couple reunite years after the night they first met, fell in love, and separated, convinced that one day they'd end up together.

Director: Peter Chelsom
Stars: John Cusack, Kate Beckinsale and Jeremy Piven
Link: Film Locations
33. North by North West (1959)

A hapless New York advertising executive is mistaken for a government agent by a group of foreign spies, and is pursued across the country while he looks for a way to survive.

Director: Alfred Hitchcock
Stars: Cary Grant, Eva Marie Saint and James Mason
Link: Film Locations
32. The Out of Towners (1970)

George Kellerman and his wife make a trip to New York, where he is about to take a new job. This journey turns out to be a trip to hell. What can go wrong will go wrong.

Director:Arthur Hiller
Stars: Jack Lemmon, Sandy Dennis and Sandy Baron
Link: Film Locations
31. Cocktail (1988)

A talented New York bartender takes a job at a bar in Jamaica and falls in love.

Director: Roger Donaldson
Stars: Tom Cruise, Bryan Brown and Elisabeth Shue
Link: Film Locations
30. Ghost (1990)

After being killed during a botched mugging, a man's love for his partner enables him to remain on earth as a ghost.

Director: Jerry Zucker
Stars: Patrick Swayze, Demi Moore and Whoopi Goldberg
Link: Film Locations
29. Coming to America (1988)

An African prince goes to Queens, New York City to find a wife whom he can respect for her intelligence and will.

Director: John Landis
Stars: Eddie Murphy, Arsenio Hall and James Earl Jones
Link: Film Locations
28. Nine 1/2 Weeks (1986)

An erotic story about a woman, the assistant of an art gallery, who gets involved in an impersonal affair with a man.

Director: Adrian Lyne
Stars: Mickey Rourke, Kim Basinger and Margaret Whitton
Link: Film Locations
27. Big (1988)

When a boy wishes to be big at a magic wish machine, he wakes up the next morning and finds himself in an adult body literally overnight.

Director: Penny Marshall
Stars: Tom Hanks, Elizabeth Perkins and Robert Loggia
Link: Film Locations
26. Sweet Smell of Success (1957)

Powerful but unethical Broadway columnist J.J. Hunsecker coerces unscrupulous press agent Sidney Falco into breaking up his sister's romance with a jazz musician.

Director: Alexander Mackendrick
Stars: Burt Lancaster, Tony Curtis and Susan Harrison
Link: Film Locations
25. The Taking of Pelham One Two Three (1974)

In New York, armed men hijack a subway car and demand a ransom for the passengers. Even if it's paid, how could they get away?

Director: Joseph Sargent
Stars: Walter Matthau, Robert Shaw and Martin Balsam
Link: Film Locations
24. The Last Days of Disco (1998)

Story of two female Manhattan book editors fresh out of college, both finding love and themselves while frequenting the local disco.

Director: Whit Stillman
Stars: Chloë Sevigny, Kate Beckinsale and Chris Eigeman
Link: Film Locations
23. The Prince of Tides (1991)

A troubled man talks to his suicidal sister's psychiatrist about their family history and falls in love with her in the process.

Director: Barbra Streisand
Stars: Barbra Streisand, Nick Nolte and Blythe Danner
Link: Film Locations
22. Serpico (1973)

The true story about an honest New York cop who blew the whistle on rampant corruption in the force only to have his comrades turn against him.

Director: Sidney Lumet
Stars: Al Pacino, John Randolph and Jack Kehoe
Link: Film Locations
21. As Good As it Gets (1997)

A single mother/waitress, a misanthropic author, and a gay artist form an unlikely friendship after the artist is in an accident.

Director: James L. Brooks
Stars: Jack Nicholson, Helen Hunt and Greg Kinnear
Link: Film Locations
20. The Usual Suspects (1995)

A boat has been destroyed, criminals are dead, and the key to this mystery lies with the only survivor and his twisted, convoluted story beginning with five career crooks in a seemingly random police lineup.

Director: Bryan Singer
Stars: Kevin Spacey, Gabriel Byrne and Chazz Palminteri
Link: Film Locations
19. Catch Me if You Can (2002)

A true story about Frank Abagnale Jr. who, before his 19th birthday, successfully conned millions of dollars as a Pan Am pilot, doctor, and legal prosecutor.

Director: Steven Spielberg
Stars: Leonardo DiCaprio, Tom Hanks and Christopher Walken
Link: Film Locations
18. Die Hard: With a Vengeance (1995)

John McClane and a store owner must play a bomber's deadly game as they race around New York while trying to stop him.

Director: John McTiernan
Stars: Bruce Willis, Jeremy Irons and Samuel L. Jackson
Link: Film Locations
17. Green Card (1990)

A man wanting to stay in the US enters into a marriage of convenience, but it turns into more than that.

Director: Peter Weir
Stars: Gérard Depardieu, Andie MacDowell and Bebe Neuwirth
Link: Film Locations
16. Good Fellas (1990)

Henry Hill and his friends work their way up through the mob hierarchy.

Director: Martin Scorsese
Stars: Robert De Niro, Ray Liotta and Joe Pesci
Link: Film Locations
15. When Harry Met Sally (1989)

Harry and Sally have known each other for years, and are very good friends, but they fear sex would ruin the friendship.

Director: Rob Reiner
Stars: Billy Crystal, Meg Ryan and Carrie Fisher
Link: Film Locations
14. Raging Bull (1980)

An emotionally self-destructive boxer's journey through life, as the violence and temper that leads him to the top in the ring, destroys his life outside it.

Director: Martin Scorsese
Stars: Robert De Niro, Cathy Moriarty and Joe Pesci
Link: Film Locations
13. Kramer vs. Kramer (1979)

A just-divorced man must learn to care for his son on his own, and then must fight in court to keep custody of him.

Director: Robert Benton
Stars: Dustin Hoffman, Meryl Streep and Jane Alexander
Link: Film Locations
12. Crocodile Dundee (1986)

An American reporter goes to the Australian outback to meet an eccentric crocodile poacher and invites him to New York City.

Director: Peter Faiman
Stars: Paul Hogan, Linda Kozlowski and John Meillon
Link: Film Locations
11. Do the Right Thing (1989)

On the hottest day of the year on a street in the Bedford-Stuyvesant section of Brooklyn, everyone's hate and bigotry smolders and builds until it explodes into violence.

Director: Spike Lee
Stars: Danny Aiello, Ossie Davis and Ruby Dee
Link: Film Locations
10. The Seven Year Itch (1955)

When his family goes away for the summer, a so far faithful husband is tempted by a beautiful neighbour.

Director: Billy Wilder
Stars: Marilyn Monroe, Tom Ewell and Evelyn Keyes
Link: Film Locations
9. The Godfather: Part II (1974)

The early life and career of Vito Corleone in 1920s New York is portrayed while his son, Michael, expands and tightens his grip on his crime syndicate stretching from Lake Tahoe, Nevada to pre-revolution 1958 Cuba.

Director: Francis Ford Coppola
Stars: Al Pacino, Robert De Niro and Robert Duvall
Link: Film Locations
8. Taxi Driver (1976)

A mentally unstable Vietnam war veteran works as a nighttime taxi driver in New York City where the perceived decadence and sleaze feeds his urge to violently lash out, attempting to save a teenage prostitute in the process.

Director: Martin Scorsese
Stars: Robert De Niro, Jodie Foster and Cybill Shepherd
Link: Film Locations
7. The French Connection (1971)

A pair of NYC cops in the Narcotics Bureau stumble onto a drug smuggling job with a French connection.

Director: William Friedkin
Stars: Gene Hackman, Roy Scheider and Fernando Rey
Link: Film Locations
6. Scarface (1983)

In 1980 Miami, a determined Cuban immigrant takes over a drug cartel while succumbing to greed.

Director: Brian De Palma
Stars: Al Pacino, Michelle Pfeiffer and Steven Bauer
Link: Film Locations
5. Wall Street (1987)

A young and impatient stockbroker is willing to do anything to get to the top, including trading on illegal inside information taken through a ruthless and greedy corporate raider who takes the youth under his wing.

Director: Oliver Stone
Stars: Charlie Sheen, Michael Douglas and Tamara Tunie
Link: Film Locations
4. Fatal Attraction (1987)

A married man's one night stand comes back to haunt him when that lover begins to stalk him and his family.

Director: Adrian Lyne
Stars: Michael Douglas, Glenn Close and Anne Archer
Link: Film Locations
3. Ghostbusters (1984)

Three unemployed parapsychology professors set up shop as a unique ghost removal service.

Director: Ivan Reitman
Stars: Bill Murray, Dan Aykroyd and Sigourney Weaver
Link: Film Locations
2. Dog Day Afternoon (1975)

A man robs a bank to pay for his lover's operation; it turns into a hostage situation and a media circus.

Director: Sidney Lumet
Stars: Al Pacino, John Cazale and Penelope Allen
Link: Film Locations
1. Leon: The Professional (1994)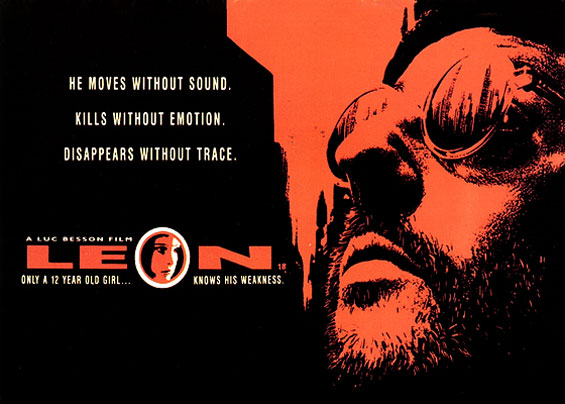 A professional assassin rescues a teenage girl whose parents were killed in a police raid.

Director: Luc Besson
Stars: Jean Reno, Gary Oldman and Natalie Portman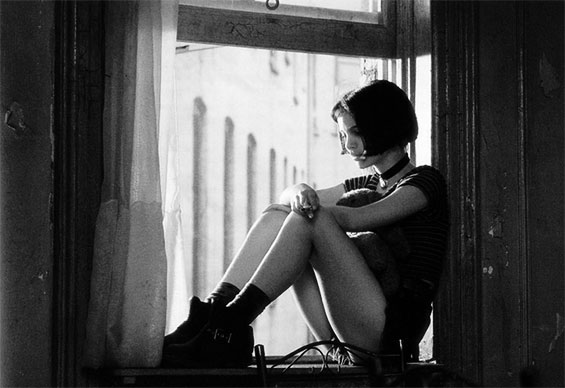 Natalie Portman was originally turned down by Todd M. Thaler, the casting director due to being too young, but she returned to the auditions and performed the scene where Mathilda laments the loss of her brother. Luc Besson was so impressed with the depth of emotion she summoned during the audition that he gave her the role and as a result, this was Natalie Portman's motion picture debut at the tender age of 11.
According to Jean Reno, he decided to play Léon as if he were a little mentally slow and emotionally repressed. He felt that this would make audiences relax and realize that he wasn't someone who would take advantage of a vulnerable young girl. Reno claims that for Léon, the possibility of a physical relationship with Mathilda is not even conceivable, and as such, during the scenes when such a relationship is discussed, Reno very much allowed Mathilda to be emotionally in control of the scenes.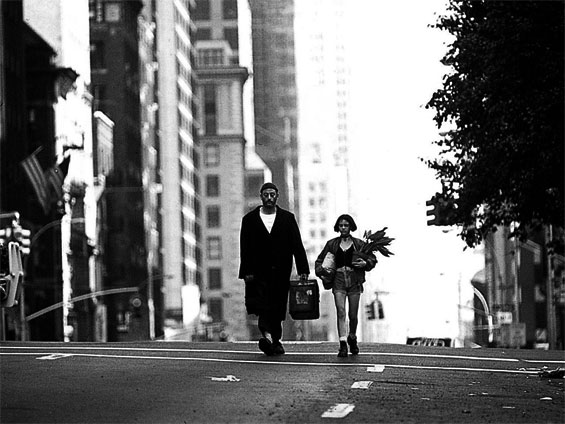 According to Patrice Ledoux, Luc Besson planned Léon as filler. At the time, he had already started working on The Fifth Element, but production was delayed due to Bruce Willis's schedule. Rather than dismiss the production team and lose his creative momentum, Besson wrote Léon. It took him only 30 days to write the script, and the shoot lasted only 90 days. Ironically, Léon is now generally considered to be a far superior film to The Fifth
All of the interiors of Léon's apartment were shot in Paris; all of the shots of the outside corridor were shot six weeks earlier in New York's Cheslea Hotel.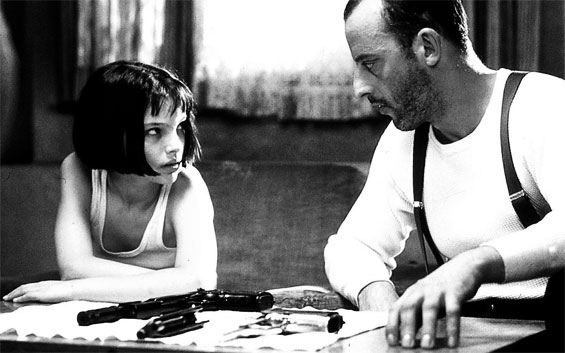 Link:
Film Locations
Send us your comments:
editor@onthesetofnewyork.com
Quick Links
Chart Listings
Disclaimer
All images that appear on the site are copyrighted to their respective owners and otsoNY.com claims no credit for them unless otherwise noted. If you own the rights to any of the images and do not wish them to appear on the site please contact us, and they will be promptly removed.